Notice: I am currently writing a follow-up post regarding my proposal of the revival of Dreamworld. You can also cast a vote on a poll found on the home page.
The Wednesday of 5/17/2017, I expected a new episode to be released. Furthermore, due to the pattern of leaked level previews, it is conjectured that next Wednesday is the time which the (unfortunately opposed) HTML5 aka mobile version will come live on web, and that means both on facebook and King.com. The HTML5 rollout is a limited rollout designed specifically for player response; currently it is strongly negative. Unfortunately, I have some sad story to tell you.
I immediately noticed that the Dreamworld icon has been entirely removed from the web version; I hope that the upcoming HTML5 version will still have Dreamworld. It is already known that Dreamworld has been removed from mobile, and that it is pretty much moribund after the release of the infamous Dozy Dawn. If you are a fan of Dreamworld, or running a business and being a good marketer, I am sorry to hear that news.
Dreamworld was released on 27 NOV 2013 for web and then 10 DEC 2013 for mobile. During this period, updates mostly occured weekly, alternating Reality and Dreamworld episode releases. Dreamworld was notorious for its moon scale, and how it was designed such that one-match losses were possible. However, Dreamworld got its first 666 curse on 6 MAY 2015, and it spread to mobile on 3 JUN 2015, and despite the hate of the Moon Scale and Odus, people still grieved for the release of this special episode. Unlike Reality, very few people reached far in Dreamworld. There were far more people in the 1000s and even the 2000s in Reality then there were people who completed the 665th level in Dreamworld, and it still holds up to this date. After Dozy Down was released, Dreamworld was pretty much moribund. The only major redesign of Dreamworld levels after Dozy Dawn was the removal of the Toffee Tornado, and there was only one redesign prior to that. Indeed, Dozy Down should indeed be the 666th episode of Dreamworld, rather than the 45th.
Now more bad news starts. Around a year and a half after the 666 curse, many people noticed that Dreamworld was missing from mobile as well. Many thought that this was just a glitch. But King instead stated that they have removed Dreamworld on mobile temporarily due to player reviews. But despite the word temporarily, they probably destroyed Dreamworld on mobile for good. Therefore, for around half a year, Dreamworld was now a web-exclusive feature.
However, this is the first time I ever saw King purposely obliterate an entire game mode which is meant to stay along with the main game, Dreamworld. In other words, King removed access on Dreamworld for both mobile and Flash! I could not believe that King would go so far to completely destroy an entire realm of 665 levels, erasing all progress Dreamworld players have done! In other words, Dreamworld is totally destroyed by the 666 curse.
Throughout my years officially editing and leaking leaked level previews, they usually come 4-6 episodes after the last released episode. This time, new previews came right after all the existing unreleased previews have been released (fortunately more leaked previews have been made, so my conjectured date might have been delayed significantly). My progress in the games is rather on the slow side; at the time I posted this post I am on Level 486 in Reality and Level 239 in Dreamworld. My main goal in this wiki is to program my programs to easily extract data, and convert the data into a wikitable (in source code) and use modules to synchronize data. You should wonder why I am hot pink, especially in my comments.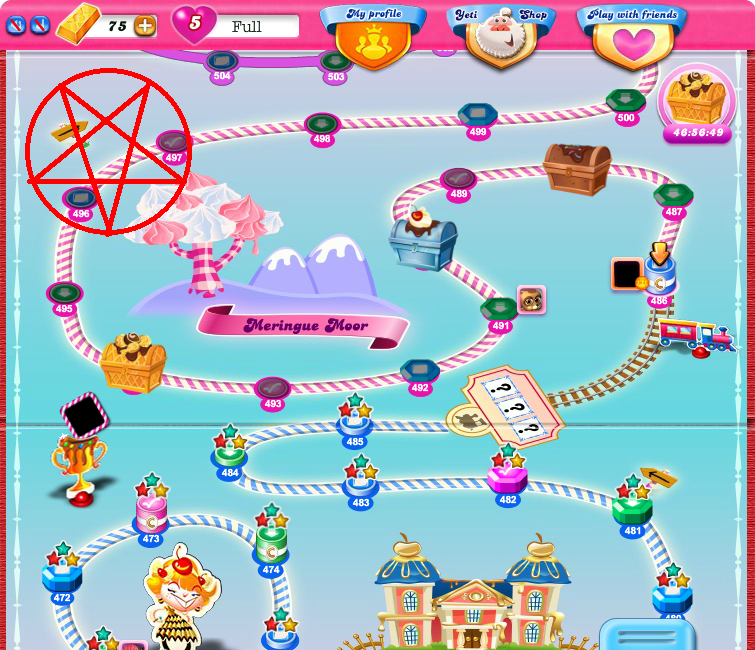 DCLXVI: Hail Satan, Candy Crush Saga!