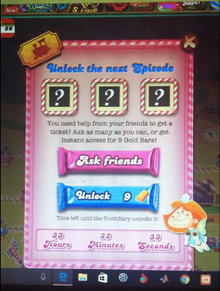 Ticket countdown screen showing 33 hours, 32 minutes, and 33 seconds remaining before the Tooth Fairy unlocks the next episode. Note the pattern in the digits on the timer. Had I taken this a minute earlier, it would have been 33:33:33, but the page was a little bit slow to load at the time. I was at the bus stop between Level 410 and Level 411. A few hours later, I used gold to unlock Level 411 before the tooth fairy would have unlocked it for me. This picture is a still of a video I recorded on my iPhone in the early morning on 9 May 2017.

PS: I was not feeling my best that day because I chose not to sleep the night before. I don't know about you, but I have a hard time feeling my best on the day after a sleepless night.
Game stats
Current level of progress
High scores
Levels I find difficult
See User:Tasty Sugar Track/Previous Hardest Levels for more information.
Favorite levels
Opening Time
I will usually not be available on Thursdays between 11:00 a.m. and 3:00 p.m. (15:00 and 19:00 according to UTC, the time on this wiki) because of my job at Brainco.
I am unavailable on Mondays and Wednesdays between 8:30 p.m. and 10:00 p.m. (Tuesdays and Thursdays, 00:30 until 02:00 UTC) because I have a teacher who comes to my house to work with me in that range.
From 10 July 2018 until 17 August 2018 inclusive, I will be taking college classes on "Life Science" from 6:30 p.m. until 9:20 p.m. on Tuesdays, Thursdays, and Fridays. According to the clock on this wiki, that covers all time after 22:30 Tuesday, Thursday, and Friday, and all time before 01:20 Wednesday, Friday, and Saturday.