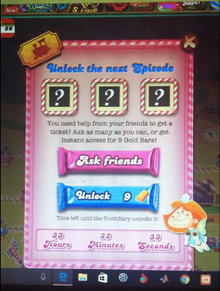 Ticket countdown screen showing 33 hours, 32 minutes, and 33 seconds remaining before the Tooth Fairy unlocks the next episode. Note the pattern in the digits on the timer. Had I taken this a minute earlier, it would have been 33:33:33, but the page was a little bit slow to load at the time. I was at the bus stop between Level 410 and Level 411. A few hours later, I used gold to unlock Level 411 before the point when the tooth fairy would have automatically unlocked it for me. This picture is a still of a video I recorded on my iPhone at around 04:40 EDT (08:40 UTC) on 9 May 2017.

PS: I was not feeling my best that day because I chose not to sleep the night before. I don't know about you, but I have a hard time feeling my best on the day after a sleepless night.
Game stats
Current level of progress
Warning: The times in the history of this page may not necessarily reflect when I got past certain levels in the game. There will be many occasions when I finish a tough level at a time when I am away from home, such as finishing a level during my classroom hours on a day I have to go to my school. Of course, you can rest assured I will never change the number in this section BEFORE I finish the level I am working on. Sometimes, I get an easy level or I will pass a hard level relatively quickly due to a wave of good luck, so sometimes the number below will increase by two, three, or possibly more.
High scores
Levels I find difficult
See User:Tasty Sugar Track/Previous Hardest Levels for more information.
Favorite levels
Opening Time
Opinions
I love cascades because they score me so many points. I think they are a key to making a level fun for me. I still have fun playing Level 252 despite the fact that it has been five months since it was converted to a moves level.
I don't mind difficult levels. In fact, I specifically enjoy the challenge factor and the mystery of not knowing when I am finally going to pass the difficult level, whether it be my 1st attempt, my 4th, or my 120th, or whatever.
I do mind boring levels, though. For me, "hard" and "boring" are not synonyms, and "easy" and "entertaining" are also not synonyms. Not all easy levels are fun, and not all hard levels are boring. For example, I have fun when playing Level 325, a hard level, but I don't have nearly as much fun playing Level 126, a level with minuscule difficulty. Even a level rated "extremely hard" can still be fun, for instance: Level 1518.
There is no question about it that King uses the "difficulty" factor to get his players to pay gold and use money to buy more gold. King isn't nearly as aggressive when it comes to the "yawn" factor, that is, the use of "boring" levels to get us to pay. I did find Level 1081 and Level 1124 to be quite boring for me, but other than that, all other levels are fine by me. Some levels seem boring at first, such as Level 1208, but become fun once you get past the icing and pave the way for more cascades to happen. But let's remember that our beloved Level 252 didn't give us a whole lot of cascades until we would clear the icing and make space on the board.
I find the sound the Conveyor Belt makes to be somewhat repetitive. Even though levels like Level 1518 are fun, the conveyer belt and high move limit makes it feel repetitive as one has to hear that sound on every single move. If you do the math, that means you hear it 45 times in one attempt, and 225 times in five attempts, assuming you don't get a candy bomb from the mystery eggs, and remove the candy bomb in time if that does happen. I am so tired of the conveyer belt sound that I either turn the volume down to zero or silence my phone when playing these levels. I sometimes listen to the radio when playing these levels, because even if it's a commercial or a song I don't like, I prefer that over hearing a sound 45 times in a row.
The "Session Hijacking" glitch is like being scratched by a cat, because normally they don't happen, but it almost never feels good when either does happen. You also don't always know why. Yes, sometimes you don't know why your cat just scratched you. It's also not always your fault. I guess it sometimes just happens seemingly out of the blue sky.
It would be really nice if one day King would bring back Dreamworld and extend it past 665 levels. Level 666, as you all know, is special in Reality, so maybe its eventual Dreamworld counterpart should be extra special.
On the page about Timed levels, it says it is possible King is awaiting critical reception upon their removal on HTML5. I hope this is the case, because for the past four months, it has bothered me and multiple other people that timed levels are history. Actually, to me, this current chapter started nearly two months before that, because Level 252 was a very fun level that I would play for over an hour and score well into the 8-digit numbers. The only non-Timed level I ever had an 8-digit score is Level 1132.
Edit Milestones