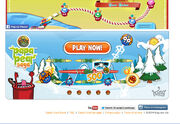 Advertisements are an element in Candy Crush Saga. They usually appear at the bottom of the game. On mobile, they appear at the bottom right-hand corner. Advertisements usually appear on mobile devices when there is a new King game. On web, they appear randomly.
Advertisements can sometimes be very annoying as they appear as claim-offers on web and the game would not let you ask your friends when you have zero lives and vice versa. Hence, every time when there is an offer, be sure to ask your friends for lives when you have one life left. They can also be very annoying on mobile devices too - if you press X after you pass, fail or quit a level, they may appear UNLESS you download the service/app.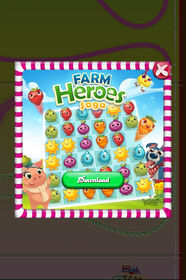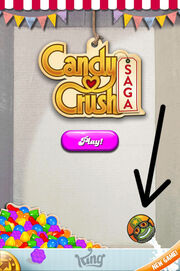 (A very annoying) Glitch
Edit
In the past, there was a very annoying glitch. The game was hoaxing that it was loading and it had the "Download" button BUT it did not have the "Continue" button. Even if you had the advertisement's game, or if there was no internet, it appeared almost every time, which was very annoying!
This can also make players rage or even make them quit.
This is also a reason for bad reviews of the game in the App Store.
Prizes and Offers
Edit
Once in a while, when you run out of lives, King will post an ad on the screen. It usually asks you to play another game of King.com. There is another condition that you must reach a certain level of that game in order to receive the prize. It usually takes around 10 minutes to complete the levels.
It is highly recommended that you should not try other games of King.com. If you try the other games, this offer may not show up (this usually happens).
The prizes are a full set of lives and 5 lollipop hammers! Those are great prizes to claim.
On mobile, there was an update without levels after Sour Salon had been released on mobile. The ONLY change was the advertisement. Now Farm Heroes Saga advertisement appears after you pass/fail/quit a level. The Papa Pear Saga advertisement also now appears at the main menu.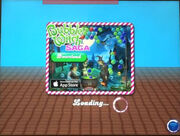 Community content is available under
CC-BY-SA
unless otherwise noted.