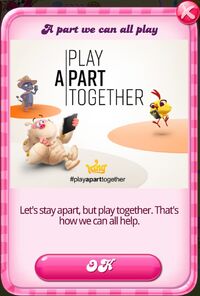 April Fool's Day (2020) (unofficial name) are a series of events and fundamental gameplay changes that took place for about a week, sometime before and after 1 April 2020. It also coincides with the early days of the COVID-19 pandemic, where players are able to have infinite lives for entire days. This event is not repeatable, however King has confirmed that the map changes is not a hoax.
For this event, King celebrated with "jokes and pranks and fun!".[1] In spirit of this holiday, King made a couple temporary changes to the game. This could be due to the its partnership with the World Health Organization (WHO) to help encourage all players and people in their homes to #PlayApartTogether and to self-isolate during the COVID-19 pandemic.[2] These changes to the game were planned until the 5th of April and were reverted after.
Seven other King-created puzzle games that also had special events during this time were Candy Crush Soda Saga, Candy Crush Jelly Saga, Candy Crush Friends Saga, Farm Heroes Saga, Bubble Witch 3 Saga, and Pet Rescue Saga.[3]
At this time, King is rolling out rotating episode maps, where all episodes have their appearance altered to a rotating cycle of ten stories. Players thought that is what constituted the April Fools hoax. Thus, this became one of, if not the, most hated and historically significant events in the history of both Candy Crush Saga and CCSW receiving universal opposition. This is due to how hundreds of episodes worth of unique names, settings, characters and stories were all replaced with the same 10 episode names and characters used ad nauseam, as well as any remaining storyline and nearly every character except Tiffi being thrown out the window.
Even though the events relevant to COVID-19 have ended, the iOS/Android episode names still carry on after the event to purportedly save RAM space. This has been confirmed on the King Community channel.[4]
April Fool's Day Celebration
[
]
Finished Event

This page contains information about an event that had been concluded.
Find the active event(s): Event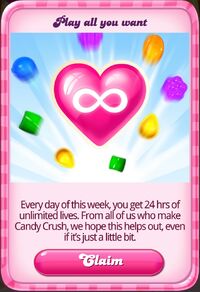 During this time, the following changes were made in game:
All players are offered unlimited lives during this event. When the player logs in the game for the first time, he/she will receive 24 hours of free lives on the device that they are on. This event occurred from

The lives will only be applied to that device and not to any other subsequent devices that they log onto - so be sure to login on the main device you want to play at all times during this week. The lives renew at the beginning of each day.

There was a giveaway on the Candy Crush forum page, where @Glenn1972, the "King Community Expert," made a short "two truths and one lie" activity. Three players who guessed the answer correctly received 20 gold bars for the King game of their choice, and the rewards were given on Thursday, the 9th of April, CET.
Altered Episode Names
[
]
The Candy Crush Saga episode maps and names were modified on all platforms for some users only around that time, purported to save memory and increase loading times. All subsequent episodes after the first two (including Creator's Crib, the 468th episode) were renamed to a rotating set of 10 different names, alternating between two worlds, and original episode backgrounds were replaced.
In addition to the wholesale retheming of the episodes, the organization of worlds have also been altered such that the first world starts at the third episode rather than the first, with the two tutorial episodes no longer belong to any standard world.
This rollout has been viewed as a glitch by many players who was selected for this rollout, assuming that they have been April fooled by the apparently incorrect names and appearance. Due to the length of time the names have stayed on selected accounts, it is possible that these name changes are here to stay for the remainder of the game.
List of rotating episode maps
[
]
Let n represent the n-th iteration of the episode going under the rotating name, assuming no exceptions.
The repeated names are as follows:
While the background remains altered for the episodes while this change is rolling out, master titles and the episode name displayed on the master title screen have not been changed from its original.
Champion titles were reused since Episode 489, where the champion title is identical to Mayor of Candy Town. Furthermore, the champion title used is identical to the champion title of the episode modulo 488.
Live change of rotating episode themes
[
]
Despite that it looks intended as an April Fools joke, this change was a permanent change that took effect to all users starting 25 May 2020, with universal opposition. Only the first two episodes, Creator's Crib, and Milestone Meadow were spared; also, Creator's Crib received a brand new map texture featuring the new (decedent) episode character Seb, overriding Choco City/Chocolate Mountain.
Signs that King had already lost their creativity in episode naming and design for HTML5 levels started around Episode 352, which is an exact replica of Polkapalooza. A few scattered episodes up to Episode 420 are also replicas. From Episode 421 (Marshmallow Mansion) onwards, all episodes from now on are exact replicas of the background 384 episodes before; Episode 487 was the last episode normally revealed before the removal of map textures, and Episode 488 was created only for the renaming of Episode 468 from Choco City to Creator's Crib.
From June 24, 2020 (July 8, 2020 on mobile), all map textures are done away with entirely at the file level, with the sole exception of Episode 1, 2, and 468. starting from Episode 489. Thus, the rotating episode themes became an offline feature for everyone, and almost all episodes from 489 onwards will only be known by the April Fools 2020 name. The next episode to have its own textures is Episode 668, named Milestone Meadow, and it designed to celebrate Level 10000.
A similar effect has happened for other Candy Crush games, with Candy Crush Soda Saga going away with episode delineation altogether.
See also
[
]
Trivia
[
]
One of the locations (Gummy Gardens) has an event based around it, as detailed here.
Gallery
[
]
References
[
]