Removed content

This page contains information about content that was previously in the game but now got removed.
This article is about the booster. For the character, see Bubblegum Troll (character).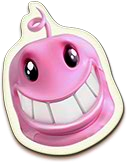 Bubblegum Troll was a booster in Candy Crush Saga, exclusive to the Flash version, that debuted in level 156. When used, all the chocolate and locked chocolate was blown away, and it covers the chocolate spawners in bubblegum, preventing the chocolate from spawning for 5 moves. This was only usable in levels with chocolate spawners. Its appearance was a bubblegum monster, hence the name. It is also named after the character.

Old description: Unleash the Bubblegum Troll to remove all the chocolate and put a stop to the evil chocolate spawners!
Current description: Removes all chocolate and stop the chocolate spawners for 5 moves. Use now!
This was a booster that you could not get from the daily booster wheel.
This booster was also a reference to a character that be first seen in Bubblegum Bridge, the Bubblegum Troll.
Sometimes, the game would offer this booster to you, even if you are stuck on a level where there's no way to get a chocolate spawner.
This is the last booster you can unlock.
This booster only appears if there are chocolate spawners.
For some reason, this booster, along with Sweet Teeth, appeared in the background of Candy Column, even though they are not available on the mobile version.
In Candy Crush Soda Saga, this booster appears as a level type in which the player has to clear all the bubblegum to pass the level.
Although the Bubblegum Troll character is an antagonist, the booster based on him helped you complete levels.
Currently, this booster isn't available. However, its splash texts can appear on the loading screen when opening the game.
This feature was removed completely from the Flash version on 14 September 2020.
Community content is available under
CC-BY-SA
unless otherwise noted.