Not to be confused with Candy Cannon.
Episode
103
World (Flash)
25
World (HTML5)
21
Levels
1521-1535
Characters
Princess
Champion title
Sweet Sleeper
New features
Fixed in
Fixed in
Fixed in
Release date
 - 10 February 2016
 - 24 February 2016
Difficulty
Somewhat Hard
Previous
Next
Candy Canyon is the 103rd episode in Candy Crush Saga and the third episode of World 21 (HTML5). This episode was released on 10 February 2016. The champion title for this episode is Sweet Sleeper.
Story
[
]
Tiffi wakes up the sleepy Princess.
New things
[
]
Candy bombs in marmalade have a fixed colour of blue for the first time in level 1521.
Candy bombs in marmalade have a fixed colour of orange for the first time in level 1524.
Locked sugar keys have fixed colours for the first time in level 1525.
Levels
[
]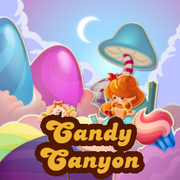 This episode contains levels 1521-1535.
Candy Canyon is a somewhat hard episode, with a mean of 4.07. It contains three hard levels: 1521, 1534 and 1535, and two very hard levels: 1526 and 1531. Overall, this episode is slightly easier than (on Flash) or easier than (on HTML5) the previous episode, Lullaby Lake.
What is remarkable about this episode is that it contains level 1525, which was the first time a timed level was ever rated extremely hard, despite the fact that this level always contained only four candy colours like 252.
Sugar Drop levels

Level 1523
Level 1527
Level 1533
 Difficulty code summary (details here)
None • Very Easy • Easy • Somewhat Easy • Medium • Somewhat Hard • Hard • Very Hard • Extremely Hard • Nearly Impossible • Variable
Level
Type
Moves
Target score
Goal
Walkthrough
Remarks
1521
20,000
: 2
1522
50,000
: 1   : 49
1523
46,000
: 23
1524
90,000
: 20   : 31
1525
30,000
: 17
Used to be extremely hard to complete.
1526
100,000
: 81

: 70

Used to start a quintuplet of six-coloured levels.
1527
78,000
: 7   : 56
1528
40,000
: 2   : 4
1529
40,000
: 3   : 1
1530
99,000
: 20   : 22
1531
30,000
: 81   : 32   : 15
1532
20,000
: 1
1533
30,000
: 75
1534
62,000
: 31
1535
10,000
: 2
Gallery
[
]
Trivia
[
]