Episode
147
World (Flash)
39
World (HTML5)
30
Levels
2181-2195
Characters
Magic Mort
Champion title
Rocket Rider
New features
+ (unofficial)
Release date
 - 14 December 2016
 - 28 December 2016
Difficulty
Very Hard
Previous
Next
Candy Countdown is the 147th episode in Candy Crush Saga and the second episode of World 30 (HTML5). This episode was released on 14 December 2016. The champion title for this episode is Rocket Rider.
Story
[
]
Magic Mort is going to perform an amazing trick - but he forgot to light his rocket. Tiffi fires up the fuse so everyone can enjoy a spectacular show at the end of the year.
New things
[
]
Lucky candy + striped candy cannon is unofficially introduced in level 2181, due to redesigning.
Levels
[
]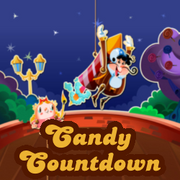 This episode contains levels 2181-2195.
Candy Countdown is a very hard episode, with a mean of 5.8. It contains four hard levels: 2183, 2185, 2187 and 2189, three very hard levels: 2182, 2184, and 2195, and three extremely hard levels: 2191, 2192 and 2194. Fortunately, no nearly impossible levels are present. Nevertheless, it is still much harder than the previous episode, Chilly Chimneys.
Sugar Drop levels

Level 2182
Level 2187
Level 2193
 Difficulty code summary (details here)
None • Very Easy • Easy • Somewhat Easy • Medium • Somewhat Hard • Hard • Very Hard • Extremely Hard • Nearly Impossible • Variable
| | | | | | | | |
| --- | --- | --- | --- | --- | --- | --- | --- |
| | Level | Type | Moves | Target score | Goal | Walkthrough | Remarks |
| | 2181 | | | 10,000 | : 10 | | |
| | 2182 | | | 120,000 | : 60 | | |
| | 2183 | | | 80,000 | : 40 | | |
| | 2184 | | | 10,000 | : 28 | | |
| | 2185 | | | 20,000 | : 90 | | |
| | 2186 | | | 10,000 | : 22   : 14   : 7 | | |
| | 2187 | | | 60,000 | : 30 | | |
| | 2188 | | | 52,000 | : 26 | | |
| | 2189 | | | 20,000 | : 2 | | |
| | 2190 | | | 106,000 | : 53 | | |
| | 2191 | | | 24,000 | : 16 | | |
| | 2192 | | | 62,000 | : 4   : 31 | | |
| | 2193 | | | 24,000 | : 53 | | |
| | 2194 | | | 46,000 | : 23 | | |
| | 2195 | | | 64,000 | : 34 | | |
Gallery
[
]
Trivia
[
]