For the game show, see Candy Crush (game show).
Developer
Unknown
Publisher
Unknown
Platforms
Unknown
Type
Match-3
Released
2011
Current version
N/A
Length (in levels)
Unknown
Status
Active
Candy Crush is a casual game released by King.com on their own website, http://www.royalgames.com/ in 2011, one year earlier than the release of Candy Crush Saga.
Level type
Time
Target score
: 5,000 pts
Blockers
None
Other features
None
Number of
candy colours
6

Number of spaces
81
Difficulty
Very Easy
Within 4 minutes, the player has to match three candies together, much like Bejeweled. Each level is composed of six different coloured candies on a 9×9 board. After the player fills up the candy cane to the left, it advances the player to the next level and shuffles the board. After the game ends, there are three rewards the player can win: one is for crushing 1,000 candies in one game, the second is for scoring 50,000 points in one game, and the last is for combining 5 candies in one game.
In order to proceed past level 1, one has to register an account of RoyalGames.
There were five boosters:
+10 seconds added to the timer.
Life hints.
Beginning with a colour bomb already on the board.
Skipping level 1 and beginning on level 2.
Starting with a wrapped candy and striped candy next to each other, allowing for a combination at the beginning of the game.
Differences between Candy Crush and Candy Crush SagaEdit
A colour bomb combined with any regular candy gives 60 points per candy, instead of 60 for the first candy and 60 points extra for each subsequent candy removed (i.e. an arithmetic sequence, triangular number sequence).
There are no extra time candies.
Combining 2 wrapped candies will not count as a combination. It has a blasting radius of 3×3, being far less powerful than 5×5 in the Saga version.
This board has all 81 spaces, in a 9×9 grid. All boards in Candy Crush Saga are also based on the 9×9 grid.
The only Candy Crush Saga level to have identical board aspects (81 spaces, 6 candies, and nothing but candies) is level 140.
This is similar to a

Time level

. At 4 minutes, or 240 seconds, this would be the longest Time level of all if counted along with CCS timed levels.
The main music is later used in moves and jelly (moves and candy order on mobile) levels of Saga.

The intro music is the "Level failed" in Candy Crush Saga.
Walkthrough
Edit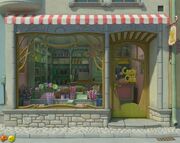 Community content is available under
CC-BY-SA
unless otherwise noted.