Latest Releases:
Episode 678
has been released for HTML5, with official config redesigns.
Episode 685
has been soft-released for W10.
Wiki: On 29 October 2020, the new software for Fandom is live here!
Opposed Update! On 25 May 2020, the April Fools episode names and backgrounds went live purportedly to optimize RAM and storage space. This has been met with universal opposition. See this King Community post for proposals and comments.
Opposed Update! On 02 December 2019, King.com officially announced the removal of the costless reset of levels. As of 5 December 2019, all users were affected. Currently, quitting a level without losing a life is impossible even if no moves are made.
Global! OCT 27 2020: The wiki has migrated to UCP.
Please see the latest redesigns here!
<

Candy Crush Saga
is a British-Swedish puzzle game, much like
Bejeweled
, created by the British Facebook game developing team King.com. The difference between it and
Bejeweled
is that the game has a story mode; levels can have multiple required goals, more entities and elements, and, obviously, has
candies
instead of jewels. It is currently available through the Apple Store, Google Play Store, Windows 10 Store and Facebook for free, with the ability to sync between devices and Facebook account. The player has to match three or more candies of the same colour through switching candies with each other to complete the various level objectives. There are seven types of Levels:
moves levels
,
jelly levels
,
ingredients levels
,
timed levels
(Flash),
candy order levels
,
mixed levels
and
rainbow rapids levels
.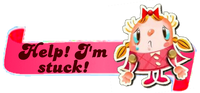 Got stuck in one of the levels? Don't worry! Go to these pages to find the hard levels and we may help you.
Games: