Latest Releases:
Episode 591
has been released for HTML5, with official config redesigns.
Episode 597
has been soft-released for W10. A new blocker has been introduced:
Sour Skull
!
Wiki: On 29 October 2020, the new software for Fandom is live here!
Opposed Update! On 25 May 2020, the April Fools episode names and backgrounds went live purportedly to optimize RAM and storage space. This has been met with universal opposition. See this King Community post for proposals and comments.
Opposed Update! On 02 December 2019, King.com officially announced the removal of the costless reset of levels. As of 5 December 2019, all users were affected. Currently, quitting a level without losing a life is impossible even if no moves are made.
Global! OCT 27 2020: The wiki has migrated to UCP.
Please see the latest redesigns here!
<
OCT 27 2020: Wikia/Fandom's new software for wikis have rolled out to this wiki. There may be technical difficulties in the first few months of this migration...

JAN 22 2019: The URL domain migration has been applied to this wiki. The URL is now candycrush.fandom.com. We will still call it a wikia, and the wikia links are still fully functional even for new pages.

05 NOV 2017: Live Chat and its Chat Moderator position were abolished, completing the transition to Discord Chat.

03 JUL 2015: The link to our Wikia/Fandom was changed from candy-crush-saga.wikia.com to candycrush.wikia.com.

26 OCT 2014: After over a year of discussion and decisions, the Wikia got its second bureaucrat! Say a big congratulations to 3primetime3 for earning this insanely-difficult-to-earn rank!

13 JUL 2013: This day marked the first time a user was promoted to Admin on this wiki. Congrats to Jianhui67!

22 DEC 2012: Birth of this wiki.
Vandalism Warning
The current vandalism warning is
yellow
.
(Update: 10:52, September 27, 2020 (UTC)) Recently, vandalism activity has increased on our wiki (such as creating vandalism pages, inserting false information or removing content). Check Special:RecentChanges to see what is going on. Since some of the vandals' edits are marked as bot flag, make sure that you check "Show" link on bot edits. If you find someone spamming and/or vandalizing, please report it to local administrators as soon as possible. You can also report it on our Discord server. The warning colour will be downgraded if there is less vandalism.
The vandalism warning can be seen here.

Candy Crush Saga
is a British-Swedish puzzle game, much like
Bejeweled
, created by the British Facebook game developing team King.com. The difference between it and
Bejeweled
is that the game has a story mode; levels can have multiple required goals, more entities and elements, and, obviously, has
candies
instead of jewels. It is currently available through the Apple Store, Google Play Store, Windows 10 Store and Facebook for free, with the ability to sync between devices and Facebook account. The player has to match three or more candies of the same colour through switching candies with each other to complete the various level objectives. There are seven types of Levels:
moves levels
,
jelly levels
,
ingredients levels
,
timed levels
(Flash),
candy order levels
,
mixed levels
and
rainbow rapids levels
.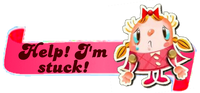 Got stuck in one of the levels? Don't worry! Go to these pages to find the hard levels and we may help you.
Games:
Community content is available under
CC-BY-SA
unless otherwise noted.