Important News: Dreamworld is now officially discontinued!
Upon the release of Watermelon Waves in 17-May-2017, Dreamworld has been removed entirely from the game, for both Flash and Mobile. Dreamworld now no longer exists in the game, and all Dreamworld content are officially considered discontinued.

Currently, there has yet been an official notification and explanation from King regarding the discontinuation of Dreamworld through social media sites or King Care.

We are very sorry that Dreamworld has been discontinued. Let the adversary forever curse the Candy Kingdom! See this thread for more information.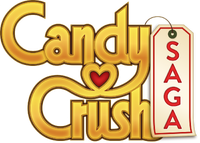 Candy Crush Saga is a British-Swedish puzzle game, much like Bejeweled, created by the British Facebook game developing team King.com. The difference between it and Bejeweled is that the game has a story mode; levels can have multiple required goals, more entities and elements, and most obviously, has candies instead of jewels. It is currently available through the Apple Store, the Google Play Store, and Facebook for free, with the ability to sync between devices and Facebook account. The player has to match three or more candies of the same colour through switching candies with each other to complete the various level objectives. There are six types of Levels: moves levels, jelly levels, ingredients levels, timed levels, candy order levels, and mixed levels.
See more: Mixed Mode levels

Mixed Mode level is one of the six level types in Candy Crush Saga. This level type's icon is two separating colours with a white rotation. Mixed levels first appear in Sugar Shrubs, the 114th episode, with the first mixed level being level 1688.
Mixed levels are levels with two or more different objectives. Currently, there is only one type of mixed level, where the player has to bring down all ingredients and clear all the jelly. The Sugar Crush is like candy order and ingredients levels, where remaining moves will become striped candies.
Refresh for more feature articles
You must make a level which have wrapped candy cannons.
Blockers need to be present (White chocolate and dark purple candy from CCSS can be present).
N…

Read more >
Not sure where to start?
The Community Portal is a great place to learn about the wiki. It contains information for newcomers and regular members alike:
Info on getting started and editing the wiki, with video demos.
How to customize your user page.
See what's missing on pages.
How to maintain pages and make sure they have a consistent look.
Reference materials on templates, categories, and more.
Fan art, fan fiction, blogs, and newsletter articles.
Talking with other members of the wiki in Forums and IRC channels.

Wikia: Candy Crush Saga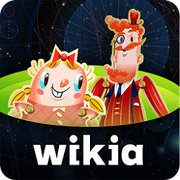 The superfan's guide to Candy Crush Saga - created by fans, for fans. Wikia apps are always up-to-date with highly accurate, real-time information from Wikia's vast fan community. Candy Crush Saga app features hundreds of pages of content created by fans just like you. Find in-depth articles on Level types, Elements, Characters, Blockers, Boosters, Worlds, Episodes, Walkthroughs, Strategies and much more. No other app offers this amount of accurate insights, tips and information with useful companion features such as:
- Browsing: categories and articles created by Fandom's Candy Crush Saga community and rank them in trending order - Search: Candy Crush Saga articles - Readability: enjoy a clean text-, image-, and video-browsing experience with font and text layout customization options - Collaboration: Join the community! Directly connect with the Candy Crush Saga community to request more information or suggest changes
NOTE: The app icon, screenshots and all content inside this app are Creative Commons licensed (CC-BY-SA) and the license details for all of these assets can be found on Fandom's licensing page: https://www.fandom.com/licensing. As an official Fandom app, this app fully complies with the CC-BY-SA terms set forth on that page.
All Fandom content and the contents of this app were uploaded by users and are governed by Fandom's Terms of Use (https://www.fandom.com/Terms_of_Use). We have a team dedicated to enforcing our terms of use, including responding to DMCA takedown notices. For more information please see our DMCA takedown policy: https://community.fandom.com/wiki/Help:DMCA_takedown_notice
Candy Crush Android Theme
King together with AirThemes presents the Candy Crush SagaTM Theme! Download this theme and totally customize your Android device with really cool interactive features. Sweet! Candy Crush Saga Theme features: • Tasty! lock screens with Candy and sounds from the game, plus Odus the Owl to guide you • A Live screen wallpaper with Tiffi as the main character to keep you company and several more which can be purchased separately • Fully customised Candy Crush Saga icons set • Interactive menus and widgets • Easy access to the official Candy Crush Store, King website and of course, to your favorite gameAll these features are included in one simple install, just download and follow the onscreen instructions. For the lock screen to work you will need to disable any native Android lock screens. This is done in Android Settings under Screen lock menu item (make sure it is set to "None").
Already a fan of Candy Crush Saga? Like us on Facebook or follow us on Twitter for the latest news: facebook.com/CandyCrushSodaSaga
Active Games
Unofficially Released Games
Vandalism Warning
The current vandalism warning is
yellow
.
(Update: 10:41, November 8, 2019 (UTC)) Since days, the vandalism activity has been increased on our wiki (such creating vandalism pages, adding gibberish content or removing content). Check Special:RecentChanges to see what is going on. Since some of the vandals' edits are marked as bot flag, make sure that you check "Show" link on bot edits. Then, if you find someone spamming and/or vandalizing, please report it to local administrators as soon as possible. You can also report it on our Discord server.
The vandalism warning can be seen here.
If you have any questions, our team is always welcome to help you. Administrators:
Got stuck in one of the levels? Don't worry! Go to these pages to find the hard levels and we may help you:
<center>Daily Puzzle</center>
Template:Main Page Magic Editor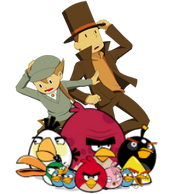 Other King.com Games
Active Saga games:

Active games:

Farm Adventure
Monster Fever

Retired games:

Bubble Saga
Hoop De Loop Saga

King Gold Games
Mahjong Saga
View this template