(210 intermediate revisions by 16 users not shown)
Line 3:
Line 3:
 

{{Main page welcome}}

 

{{Main page welcome}}

 
 
⚫
 
 

{{Main Page Nav}}

 

{{Main Page Nav}}

 
+

----

 
⚫
 
+

----

 
+

{{CustomStance

 
+

|maincolor = normal

 
⚫
 
+

|backgroundcolor = #FF88FF

 
+

|backgroundsubcolor = white

 
+

|subcolor = normal

 
+

|subtext =

 
+

<font color="Blue">'''Latest Releases:'''</font> [[Episode 374]] has been released for HTML5, with official config redesigns. [[Episode 379]] has been soft-released for W10.

 
 
 
+

'''Global! JAN 22 2019:''' The URL domain migration has been applied to this wiki. The URL is now ''candycrush.fandom.com''. We will still call it a wikia, and the wikia links are still fully functional even for new pages.

⚫
 
⚫
 
−

|body = [[File:Candy Crush Saga Logo.png|thumb|200px]]

 
−

''Candy Crush Saga'' is a British-Swedish puzzle game, much like ''[[w:c:bejeweled:Bejeweled|Bejeweled]]'', created by the British Facebook game developing team King.com. The difference between it and ''Bejeweled'' is that the game has a story mode; levels can have multiple required goals, more entities and elements, and most obviously, has [[candies]] instead of jewels. It is currently available through the Apple Store, the Google Play Store, and Facebook for free, with the ability to sync between devices and Facebook account. The player has to match three or more candies of the same colour through switching candies with each other to complete the various level objectives. There are six types of Levels: [[moves levels]], [[jelly levels]], [[ingredients levels]], [[timed levels]], [[Candy Order levels|candy order levels]], and [[Mixed Mode levels|mixed levels]].

 
⚫
 
 
 
 
+

<font color="red">'''Historical!'''</font> On NOV 06, the [[Redesigning/Selective|'''selective redesigns''']] were applied to all of the players as an official config redesign! It sparked a huge amount of frustration both in game and in the wiki!

−

{{Home Table

 
−

|header= [[File:Featurearticlesbanner.png|thumb|center|500px|link=]]

 
⚫
 
−

}}<!--Featured articles-->

 
 
 
 
+

'''AUG 07 2018:''' You can no longer play the Flash version of Candy Crush on Facebook.

−

{{Home Table

 
 
+

<nowiki>[Fallback Site </nowiki>https://apps.facebook.com/candycrush/?ccsfallback=true<nowiki>]</nowiki>

−

|header = [[File:Featurevideosbanner.png|thumb|center|500px|link=]]

 
−

|body = {{Featured Video}}

 
−

}}<!--Featured videos-->

 
 
 
 
+

<font color="red">'''Historical!'''</font> '''MAY 02 2018:''' [[Timed levels]] have been completely phased out from the game! [[Level 18]] is now a Jelly Level. Vote in the poll in the Timed levels page or featured puzzles on the sideline. Timed levels are still available on the Flash version only.

−

{{Home Table

 
−

|header = [[File:Featurepicturesbanner.png|thumb|center|500px|link=]]

 
−

|body = {{Featured Image}}

 
−

}}<!--Featured images-->

 
 
 
 
+

[[Redesigning/Current|'''Please see the latest redesigns here!''']]

 
⚫
 
+

----

 
⚫
 
+

----

 
⚫
 
+

----

 

{{Home Table

 

{{Home Table

−

|header = [[File:Helpingout.png|thumb|center|500px|link=]]

+

|header = [[File:.png|thumb|center||link=]]

 
⚫
⚫
 
 
⚫
−

; Not sure where to start?

 
 
+

</bloglist>

−
 
 
+

{{BlogPostLinks}}

−

The '''[[Candy Crush Saga Wiki:Community Portal|Community Portal]]''' is a great place to learn about the wiki. It contains information for newcomers and regular members alike:

 
 
+

}}

−

*Info on getting started and editing the wiki, with video demos.

 
 
+

----

−

*How to customize your user page.

 
−

*See what's missing on pages.

 
−

*How to maintain pages and make sure they have a consistent look.

 
−

*Reference materials on templates, categories, and more.

 
−

*Fan art, fan fiction, blogs, and newsletter articles.

 
−

*Talking with other members of the wiki in Forums and IRC channels.

 
−

}}<!--Help page-->

 
−
 
 

{{Home Table

 

{{Home Table

−

|header = [[File:Downloadbanner.gif|thumb|center|500px|link=]]

+

|header = [[File:Downloadbanner.gif|thumb|||link=]]

 
+

|body = <center>[[File:Windows Store.png|130px|link=https://www.microsoft.com/en-gb/store/apps/candy-crush-saga/9nblggh18846]] [[File:AppstoreButton.png|130px|link=https://itunes.apple.com/us/app/candy-crush-saga/id553834731?mt=8]][[File:Play Store.png|130px|link=https://play.google.com/store/apps/details?id=com.king.candycrushsaga]][[File:AmazonButton.png|130px|link=http://www.amazon.com/King-Candy-Crush-Saga/dp/B00FAPF5U0]]

−

|body = [[File:CandyCrushSagaMobile.png|300px|center|link=]]

 
 
⚫
−

<br />[[File:20150531211253.png|150px|left]]

 
−

[[File:Windows Store.png|160px|link=https://www.microsoft.com/en-gb/store/apps/candy-crush-saga/9nblggh18846]]&nbsp;

 
−

[[File:AppstoreButton.png|160px|link=https://itunes.apple.com/us/app/candy-crush-saga/id553834731?mt=8]]&nbsp;

 
−

[[File:Play Store.png|160px|link=https://play.google.com/store/apps/details?id=com.king.candycrushsaga]]&nbsp;

 
−

[[File:AmazonButton.png|160px|link=http://www.amazon.com/King-Candy-Crush-Saga/dp/B00FAPF5U0]]

 
⚫
 
−
 
−

{{Candy Crush Store}}<!--Candy Crush Store-->

 
−
 
−

{{Wikia Candy Crush Saga}}<!--Wikia: Candy Crush Saga-->

 
−
 
−

{{Candy Crush Android Theme}}<!--Candy Crush Android Theme-->

 
−
 
⚫
 
 
 
⚫
 
 

<br />

 

<br />

 

{{UsersNavBox}}<!--Local members-->

 

{{UsersNavBox}}<!--Local members-->

−

<br />

 
⚫
 
 
 
 
⚫
 

<mainpage-endcolumn />

 

<mainpage-endcolumn />

 
+
 

<mainpage-rightcolumn-start />

 

<mainpage-rightcolumn-start />

 
+

{{Main Page Search}}

⚫
 
 

{{Home Table

 

{{Home Table

−

|header=[[File:Mr. Toffee-contactbanner.png|thumb|center|250px|link=]]

+

|header=[[File:-.png|thumb|center||link=]]

 

|body=

 

|body=

 
⚫
⚫
 
⚫
 
⚫
 
⚫
 
−

*{{U|3primetime3}}

 
⚫
 
−

*{{U|Blueeighthnote}}

 
⚫
 
⚫
 
−

*{{U|Blackbird625}}

 
⚫
 
−

*{{U|Flockky II}} (Inactive on 16-22 January 2017 due to exam preparation)

 
−

*{{U|Catinthedark}}

 
−

*{{U|3litecandycrusher}}

 
−

*{{U|Cheekian}} (Semi-active until March 2017)

 
⚫
 
⚫
 
−

*{{U|Not real name}}

 
−

*{{U|Akumaxx ws}} (Inactive due to device broken)

 
⚫
 
−

{{Home Table

 
⚫
 
−

|body=

 
⚫
 
 

*[[:Category:Hard levels|Hard levels]]

 

*[[:Category:Hard levels|Hard levels]]

 

*[[:Category:Very hard levels|Very hard levels]]

 

*[[:Category:Very hard levels|Very hard levels]]

 

*[[:Category:Extremely hard levels|Extremely hard levels]]

 

*[[:Category:Extremely hard levels|Extremely hard levels]]

 
+

*[[:Category:Nearly impossible levels|Nearly impossible levels]]

 

*[[:Category:Hexagon levels|Hexagon levels]]

 

*[[:Category:Hexagon levels|Hexagon levels]]

 
+

*[[:Category:Non-hexagon hard levels|Non-hexagon hard levels]]

 
+

*[[:Category:Variable levels|Variable levels]]

 
+

'''Games:'''

 
+

*[[:Category:Hexagon levels|Hexagon levels]]

 
+

*[[:Category:Super hard levels|Super hard levels]]

 
+

*[[:Category:Nightmarishly hard levels|Nightmarishly hard levels]]

 

}}<!--Hard levels-->

 

}}<!--Hard levels-->

 

{{Home Table

 

{{Home Table

−

|header = [[File:Odusbannerofficial.png|thumb|center|250px|link=]]

+

|header = center

 
⚫
⚫
 
 
⚫
⚫
 
 
+

|-|

−

</bloglist>}}<!--Recent blog post-->

 
−

{{Home Table

+

{{Home

 
+

</tabber>

−

|header = <center>Poll</center>[[File:Tiffi-progressbanner.png|thumb|center|250px|link=]]

 
⚫
 
−

Reality = {{Home Poll}} |-|

 
−

Dreamworld = {{Home Poll 2}}</tabber>

 
−

}}<!--Poll-->

 
−

{{Home Table

 
−

|header = <center>Daily Puzzle</center>

 
−

|body = {{Featured Puzzle}}

 
 

}}<!--Puzzle-->

 

}}<!--Puzzle-->

 
+

{{Main Page Do you know}}

 
⚫
 
⚫
 
⚫
 
⚫
 
⚫
 
⚫
 
+

*{{U|--MULLIGANACEOUS--}}

 
⚫
 
⚫
 
⚫
 
+

*{{U|Courtemanche437}}

 
⚫
 
+

*{{U|HM100}}

 
⚫
 
⚫
 
+

*{{U|PowerCrusher04}}

 
⚫
 
+

*{{U|Timhung005}}

 
⚫
 
+

}}-->

 
⚫
 

<br />

 

<br />

 

<mainpage-endcolumn />

 

<mainpage-endcolumn />

 
 
 
+

{{w:King Game}}

⚫
 
 
⚫
−
 
 

{{w:FacebookGameWikis}}

 

{{w:FacebookGameWikis}}

 

{{w:FooterPuzzleGames}}

 

{{w:FooterPuzzleGames}}

−

{{w:King}}

+

{{w:}}

 

__NOTOC__

 

__NOTOC__

 

__NOEDITSECTION__

 

__NOEDITSECTION__

 
+
 
+

[[ru:]]

 

[[Category:Community]]

 

[[Category:Community]]
---
Revision as of 20:19, 16 October 2019
Template:Main page welcome
---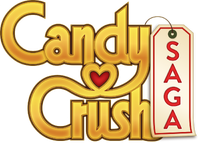 Candy Crush Saga
is a British-Swedish puzzle game, much like
Bejeweled
, created by the British Facebook game developing team King.com. The difference between it and
Bejeweled
is that the game has a story mode; levels can have multiple required goals, more entities and elements, and most obviously, has
candies
instead of jewels. It is currently available through the Apple Store, the Google Play Store, the Window 10 Store and Facebook for free, with the ability to sync between devices and Facebook account. The player has to match three or more candies of the same colour through switching candies with each other to complete the various level objectives. There are six types of Levels:
moves levels
,
jelly levels
,
ingredients levels
,
timed levels
(Flash),
candy order levels
, and
mixed levels
.
---

Latest Releases: Episode 374 has been released for HTML5, with official config redesigns. Episode 379 has been soft-released for W10.

Global! JAN 22 2019: The URL domain migration has been applied to this wiki. The URL is now candycrush.fandom.com. We will still call it a wikia, and the wikia links are still fully functional even for new pages.

Historical! On NOV 06, the selective redesigns were applied to all of the players as an official config redesign! It sparked a huge amount of frustration both in game and in the wiki!

AUG 07 2018: You can no longer play the Flash version of Candy Crush on Facebook. [Fallback Site https://apps.facebook.com/candycrush/?ccsfallback=true]

Historical! MAY 02 2018: Timed levels have been completely phased out from the game! Level 18 is now a Jelly Level. Vote in the poll in the Timed levels page or featured puzzles on the sideline. Timed levels are still available on the Flash version only.
---

OCT 27 2020: Wikia/Fandom's new software for wikis have rolled out to this wiki. There may be technical difficulties in the first few months of this migration...

JAN 22 2019: The URL domain migration has been applied to this wiki. The URL is now candycrush.fandom.com

05 NOV 2017: Live Chat and its Chat Moderator position were abolished, completing the transition to Discord Chat.

03 JUL 2015: The link to our Wikia/Fandom was changed from candy-crush-saga.wikia.com to candycrush.wikia.com.

26 OCT 2014: After over a year of discussion and decisions, the Wikia got its second bureaucrat! Say a big congratulations to 3primetime3 for earning this insanely-difficult-to-earn rank!

13 JUL 2013: This day marked the first time a user was promoted to Admin on this wiki. Congrats to Jianhui67!

22 DEC 2012: Birth of this wiki.
---
Template:VandalismWarningNavBox
---
---

Other King.com Games
Active Saga games:

Active games:

Crash Bandicoot: On the Run!
Farm Adventure

Retired games:

Bubble Saga
Hoop De Loop Saga

King Gold Games
Mahjong Saga
View this template
Template:Main Page Search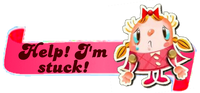 Got stuck in one of the levels? Don't worry! Go to these pages to find the hard levels and we may help you.
Games:
Template:Mainpagefacebook