Latest news
Latest Releases Historical release - we rarely ever see three episodes being released in one week! Episode 266 has been released for HTML5, with official config redesigns. Episode 270 has been soft-released for W10, and the 4K is now available for play!

HISTORICAL! On NOV 06, the selective redesigns have been applied for all of the players as an official config redesign! That could possibly spark a huge amount of frustration both in game and in the wiki!

URGENT! There are reports of players (since late August) that they are no longer able to quit a level costlessly, without losing lives nor boosters if they haven't made a move. That is a grave threat to the CCS community!

It has been reported to King Care: See here

OCT 16: the selective redesigns have been applied for the majority of the players in the form of a daily tweak! Will that continue to receive negative reception? See the AUG 15 update for more information.

SEP 12: A third grade of hexagon levels are coming out - the Nightmarishly Hard Levels!

AUG 15: There are reports of several players (since mid August) getting levels with abnormally low moves for HTML5, especially on the mobile platform or on W10. It is likely that special buff/nerf configs sets have been assigned to players to test upcoming major nerfs... But now the buff and nerf groups are merging.

Click here and see the list of levels with such redesigns. It has been reported to King Care: See here

AUG 07: You can no longer play the Flash version of Candy Crush on Facebook. [Fallback Site https://apps.facebook.com/candycrush/?ccsfallback=true]

HISTORICAL! MAY 02: Timed levels have been completely phased out from the game! Level 18 is now a Jelly Level. Vote in the poll in the Timed levels page or featured puzzles on the sideline. Timed levels are still available on the Flash version only.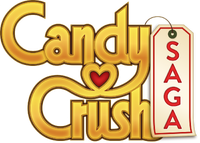 Candy Crush Saga is a British-Swedish puzzle game, much like Bejeweled, created by the British Facebook game developing team King.com. The difference between it and Bejeweled is that the game has a story mode; levels can have multiple required goals, more entities and elements, and most obviously, has candies instead of jewels. It is currently available through the Apple Store, the Google Play Store, and Facebook for free, with the ability to sync between devices and Facebook account. The player has to match three or more candies of the same colour through switching candies with each other to complete the various level objectives. There are six types of Levels: moves levels, jelly levels, ingredients levels, timed levels, candy order levels, and mixed levels.
Vandalism Warning
The current vandalism warning is
yellow
.
(Update: 10:41, November 8, 2019 (UTC)) Since days, the vandalism activity has been increased on our wiki (such creating vandalism pages, adding gibberish content or removing content). Check Special:RecentChanges to see what is going on. Since some of the vandals' edits are marked as bot flag, make sure that you check "Show" link on bot edits. Then, if you find someone spamming and/or vandalizing, please report it to local administrators as soon as possible. You can also report it on our Discord server.
The vandalism warning can be seen here.

I hope everyone, contributors, commentors, and readers alike had the best of your summer even amidst the Covid-19 pandemic. To be honest with you, t…


Read more >

Currently, I just joined on May 14, 2020, but I'm not that active right now. I'll try to be more active, starting right now. Currently, my average nu…

Read more >

Back in 2017, we witnessed the transition from Flash to HTML5. With the release of Peppermint Portal (episode 189), the first of bad changes happened…

Read more >

Other King.com Games
Active Saga games:

Active games:

Farm Adventure
Monster Fever

Retired games:

Bubble Saga
Hoop De Loop Saga

King Gold Games
Mahjong Saga
View this template
If you have any questions, our team is always welcome to help you. Administrators:
Got stuck in one of the levels? Don't worry! Go to these pages to find the hard levels and we may help you:
Active Games
Unofficially Released Games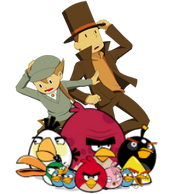 Community content is available under
CC-BY-SA
unless otherwise noted.