Not to be confused with Delicious Drifter, the champion title of the 189th Reality episode, Peppermint Portal.
Episode
18
World (Flash)
3
World (HTML5)
4
Levels
246-260
Characters
Paul
Champion title
Polar Explorer
New features
in
in
Release date
 - 23 November 2012
 - 21 March 2013
Difficulty
Medium - Somewhat Hard
Previous
Next
Delicious Drifts is the 18th episode of Candy Crush Saga and the sixth and final episode of World Three. This episode was released on 23 November 2012. The champion title for this episode is Polar Explorer.
Story
Before episode:
The episode takes place in a polar climate, judging from the surroundings. In the background there seems to be something like an igloo from marshmallow. Tiffi sees that Paul the polar bear is upset that his jelly fish is frozen in ice.
After episode:
Tiffi gives Paul a burning candy that makes him breathe fire and defrost the frozen jelly fish.
New things
Levels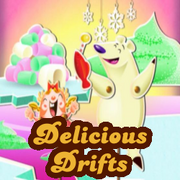 This episode contains levels 246-260.
Delicious Drifts is a medium - somewhat hard episode. It has five somewhat hard - hard levels: 248, 249, 251, 253 and 259. Overall, this episode is harder than the previous episode, Chocolate Barn.
This episode also contains level 252, which you could play indefinitely after breaking through most of the blockers. However, because of the removal of timed levels, this is no longer the case and said level is now a moves level.
| 4 | 5 | 6 |
| --- | --- | --- |
| 1 | 12 | 2 |
Sugar Drop levels

Level 246
Level 250
Level 255
 Difficulty code summary (details here)
None • Very Easy • Easy • Somewhat Easy • Medium • Somewhat Hard • Hard • Very Hard • Extremely Hard • Nearly Impossible • Variable
 Note that goals include target score.
Level
Type
Moves
Target score
Goal
Walkthrough
Remarks
246
40
35,000
: 18
First jelly fish on start screen
247
50
10,000
: 60   : 60   : 60
248
40
35,000
: 18
249
45
40,000
: 2   : 2
First coconut wheel on start screen
250
25
55,000
: 27
251
30
55,000
: 29
252
25
15,000
: 15,000 pts
Used to be possible to be played forever, millions of points could be achieved
It was timed level with only four colours
253
35
10,000
: 1
254
50
15,000
: 1   : 1   : 1
255
45
60,000
: 3   : 3
256
25
30,000
: 36
257
35
25,000
: 1   : 2   : 2
258
45
80,000
: 16
259
40
20,000
: 1   : 1
260
50
140,000
: 61

Candy Crush Saga Level 260
Gallery
Trivia