Episode
53
World (Flash)
9
World (HTML5)
11
Levels
771-785
Characters
Jean-Luc
Champion title
Eggnog Empress
New features

in
in
in
in
Release date
 - 10 December 2014
 - 22 December 2014
Difficulty
Somewhat Hard
Previous
Next
Eggnog Emporium is the 53rd episode of Candy Crush Saga and the fifth episode of World Nine. This episode was released on 10 December 2014. The champion title for this episode is Eggnog Empress.
Before episode:
Jean-Luc the nutcracker's jaw is broken and he is in a lot of pain.
After episode:
Tiffi fixes his jaw by some sugarplum magic.
New things
Edit
Popcorn is officially introduced.
Mystery candies officially appear in one-layered to four-layered sugar chests in level 780.
This episode contains levels 771-785.
Eggnog Emporium is a somewhat hard episode, having five somewhat hard - hard levels: 773, 775, 776, 781 and 782, and two very hard levels: 772 and 783. Overall, this episode is harder than the previous episode, Chewy Citadel.
Sugar Drop levels

Level 771
Level 773
Level 778
 Difficulty code summary (details here)
None • Very Easy • Easy • Somewhat Easy • Medium • Somewhat Hard • Hard • Very Hard • Extremely Hard • Nearly Impossible • Variable
 Note that goals include target score.
Level
Type
Moves
Target score
Goal
Walkthrough
Remarks
771
10,000
: 4
is introduced
This level used to be a moves level
772
20,000
: 1   : 1
773
20,000
: 20,000 pts
774
80,000
: 33
775
60,000
: 2   : 2
776
40,000
: 4   : 12
777
30,000
: 30
778
40,000
: 18
779
250,000
: 25
780
20,000
: 10
781
30,000
: 12
782
40,000
: 6   : 8
783
120,000
: 12
784
60,000
: 25
785
70,000
: 7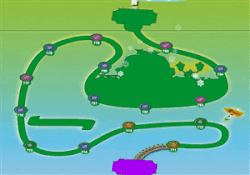 This is the second Christmas episode; Holiday Hut is the first episode, and Festive Forest is the third episode.
This episode is apparently based on The Nutcracker, a renowned ballet.
This is the last Reality episode that was released in 2014 on mobile.
This is the 10th episode in a row, in which, there is no text in the story.
This is the only episode to have something move in motion (snowflakes) on the map of web version. It is also present even if you have not unlocked the episode.

With the moving snowflakes, this also makes it the fourth episode which takes place at a location with snow, preceded by Delicious Drifts, Holiday Hut, and Ice Cream Caves.

The pathway resembles that of Sticky Savannah. In mobile, it is exactly the same as Sticky Savannah.
This episode doesn't have liquorice locks, cake bombs, and candy frog.
This episode has only two ingredients levels, one of the lowest numbers.
The building is titled Tasty Toys.
The episode's background contains characters from other episodes:
All the levels in this episode have popcorn present.
This is the first episode that was changed into a season-themed, the second being Episode 88, and the third being Episode 94. The episode's pathway was originally planned to be used for Fudge Fjord.
This is the third episode that starts with a vowel. The other two being Easter Bunny Hills and Ice Cream Caves.
Candy Crush Saga
Reality
episodes















・Plushie Party・Sugar Cookie Shrine・Pumpkin Parade・Rainbow Reef・Licorice Lane・Bubbly Bowl・Meringue Moor・Orange Orchard・Shake Street・Piggy Park・Doughnut Deli・Sticky Suburb・Generous Grove・Forest Feast
Community content is available under
CC-BY-SA
unless otherwise noted.