Episode
127
World (Flash)
33
World (HTML5)
26
Levels
1881-1895
Characters
Pete
Champion title
Fishy Fixer
New features
in (unofficial)
Release date
 - 27 July 2016
 - 10 August 2016
Difficulty
Medium - Somewhat Hard
Previous
Next
Funky Farm is the 127th episode in Candy Crush Saga and the second episode of World 26 (HTML5). This episode was released on 27 July 2016. The champion title for this episode is Fishy Fixer.
Story
[
]
Pete tries to fix the broken weather vane found at the roof of the Chocolate Barn, but he doesn't have the proper materials. Tiffi helps him by replacing the vane with a jelly fish.
New things
[
]
Liquorice swirl in marmalade at the start is unofficially introduced in level 1892, due to redesigning.
Moves levels are introduced at level 1890 and there are no other moves levels than that
Levels
[
]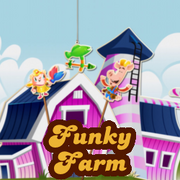 This episode contains levels 1881-1895.
Funky Farm is a medium - somewhat hard episode, with a mean of 3.93. It contains three somewhat hard - hard levels: 1881, 1882, and 1889, one very hard level: 1894, and one extremely hard level: 1893. Overall, this episode is much easier than the previous episode, Licorice Luna, mostly due to easy levels after some nerfs.
Sugar Drop levels

Level 1881
Level 1886
Level 1893
 Difficulty code summary (details here)
None • Very Easy • Easy • Somewhat Easy • Medium • Somewhat Hard • Hard • Very Hard • Extremely Hard • Nearly Impossible • Variable
| | | | | | | | |
| --- | --- | --- | --- | --- | --- | --- | --- |
| | Level | Type | Moves | Target score | Goal | Walkthrough | Remarks |
| | 1881 | | | 40,000 | : 2   : 2 | | |
| | 1882 | | | 118,000 | : 59 | | |
| | 1883 | | | 10,000 | : 70 | | |
| | 1884 | | | 20,000 | : 1   : 1 | | |
| | 1885 | | | 45,000 | : 32   : 40 | | |
| | 1886 | | | 60,000 | : 4 | | |
| | 1887 | | | 75,000 | : 73 | | |
| | 1888 | | | 31,500 | : 145 | | |
| | 1889 | | | 20,000 | : 50 | | |
| | 1890 | | | 40,000 | : 40,000 pts | | |
| | 1891 | | | 100,000 | : 75   : 16 | | |
| | 1892 | | | 10,000 | : 10   : 84 | | |
| | 1893 | | | 20,000 | : 1   : 1 | | 500th level |
| | 1894 | | | 65,000 | : 42   : 16 | | |
| | 1895 | | | 45,000 | : 40   : 40   : 40 | | |
Gallery
[
]
Trivia
[
]