Episode
158
World (Flash)
43
World (HTML5)
32
Levels
2346-2360
Characters
Odus
Champion title
Lunar Lighter
New features
    
in
Release date
 - 1 March 2017
 - 15 March 2017
Difficulty
Nearly Impossible
Previous
Next
Glittery Grove is the 158th episode of Candy Crush Saga and the second episode of World Forty-Three. This episode was released on 1 March 2017. The champion title for this episode is Lunar Lighter.
Story
Odus was excited to watch the moon, but it's not yet out tonight. Tiffi has a brilliant idea and turns on a gigantic bulb that resembles the moon itself.
New things
Levels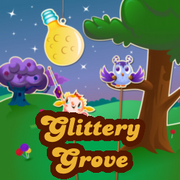 This episode contains levels
2346
-
2360
.
Glittery Grove is one of those painfully hard episodes, episodes that are the reasons of people quitting candy crush. Like Cavity Cave, this is due to the buffs. In fact, this episode has the most number of buffs which were made one day after the episode's release, which makes this episode nearly impossible. It is currently tied with Swirly Steppes as the fourth hardest episode in the game. It is MUCH harder than the previous episode, Marzipan Meadow, as it contains three hard levels: 2346, 2351 and 2360, and six very hard levels: 2348, 2349, 2350, 2353, 2354 and 2358, not to mention the fact that that the other six levels are rated extremely hard, except for one notorious nearly impossible level: 2357!
This template does not update live, and is therefore deprecated. It is kept for historical significance.
 Difficulty code summary (details here)
None • Very Easy • Easy • Somewhat Easy • Medium • Somewhat Hard • Hard • Very Hard • Extremely Hard • Nearly Impossible • Variable
 Note that goals include target score.
| | | | | | | | |
| --- | --- | --- | --- | --- | --- | --- | --- |
| | Level | Type | Moves | Target score | Goal | Walkthrough | Remarks |
| | 2346 | | 50 | 84,000 | : 42 | | |
| | 2347 | | 25 | 18,000 | : 6   : 20   : 20 | | |
| | 2348 | | 25 | 10,000 | : 1   : 1 | | |
| | 2349 | | 50 | 10,000 | : 25 | | |
| | 2350 | | 50 | 50,000 | : 3   : 5   : 2 | | |
| | 2351 | | 38 | 24,000 | : 12 | | |
| | 2352 | | 25 | 38,000 | : 24 | | |
| | 2353 | | 50 | 100,000 | : 43 | | |
| | 2354 | | 50 | 50,000 | : 15   : 77 | | |
| | 2355 | | 35 | 10,000 | : 60   : 25 | | |
| | 2356 | | 45 | 44,000 | : 22 | | |
| | 2357 | | 22 | 58,000 | : 3   : 55 | | |
| | 2358 | | 30 | 62,000 | : 31 | | |
| | 2359 | | 40 | 10,000 | : 52 | | |
| | 2360 | | 30 | 56,000 | : 28 | | |
Gallery
Trivia