Episode
40
World (Flash)
7
World (HTML5)
8
Levels
576-590
Characters
Mr. Snail
Champion title
Balloon Botanist
New features
None
Release date
 - 14 May 2014
 - 28 May 2014
Difficulty
Somewhat Easy
Previous
Next
Gummy Gardens is the 40th episode of Candy Crush Saga and the fourth episode of World Seven. This episode was released on 14 May 2014. The champion title for this episode is Balloon Botanist.
Before episode:
Mr. Snail wonders if he will come on time to the greenhouse for his date.
After episode:
Tiffi gives the snail balloons to make him float, and Mr. Snail does not worry anymore about being late.
New things
Edit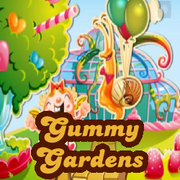 This episode contains levels
576
-
590
.
Gummy Gardens contains three somewhat hard - hard levels: 580, 584 and 586, and one very hard level: 585. However, the rest of the levels are relatively easy. Overall, it is a somewhat easy episode, with a mean of 3.2, and it is much easier than the previous episode, Biscuit Bungalow.
Sugar Drop levels

Level 581
Level 582
Level 586
 Difficulty code summary (details here)
None • Very Easy • Easy • Somewhat Easy • Medium • Somewhat Hard • Hard • Very Hard • Extremely Hard • Nearly Impossible • Variable
Level
Type
Moves
Target score
Goal
Walkthrough
Remarks
576
100,000
: 1   : 1
577
80,000
: 10   : 17
578
50,000
: 30   : 18
Former hardest level in the entire game

This level used to be impossible because of a jelly under a chocolate spawner

579
50,000
: 2   : 2
580
70,000
: 32
581
40,000
: 2   : 2
582
40,000
: 63
583
1,000
: 65
584
16,000
: 2   : 7
585
18,000
: 9
586
20,000
: 2
One of the hardest levels to earn three stars
587
20,000
: 1   : 1
The fifth level with 3 candy colours
588
300,000
: 6   : 59
589
20,000
: 60   : 60   : 60
590
160,000
: 81
The episode's pathway has been uncovered on Facebook since April 28, 2014.
This episode continues the trend of levels ending with 87 being ingredient levels.
After being totally absent in Biscuit Bungalow, cake bombs reappeared in this episode, in level 584.
This episode is the second episode in a row to have alliteration in its name, the first being Biscuit Bungalow.
This episode continued the trend of having no timed levels (prior to their removal) and moves levels.
This episode used to be impossible as the first version of Level 578 had a jelly under a chocolate spawner, making that level impossible to complete without the use of the jelly fish booster. It was corrected a few days after release.
This episode breaks the trend of having 3 candy order levels in even numbered episodes. There are only two in this episode.
This episode breaks the trend of all levels that ends in 0 or is a multiple of 10 since 450 is somewhat hard or higher, and since level 580 is a medium level.
This is the first episode whose candy order levels do not require the player to make any special candies or make any special candy combinations.
This episode is the second one to have 'gum' in its name, the first being Bubblegum Bridge.
This is the first episode to have no mystery candies since they were first introduced.
This episode was released exactly one year after the release of Pudding Pagoda.
This is the first episode name which has "Gummy" used as a starting word. The second was Gummy Galaxy and the third one is Gummy Gazebo.
This is one of the episodes whose name has been used for April Fool's Day (2020).
This episode's background, map texture and story is reused for Candied Conservatory.
Community content is available under
CC-BY-SA
unless otherwise noted.