No Man's Sky Update - The Loop
Play Sound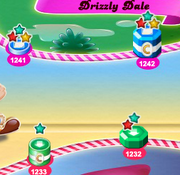 A hexagon level or skull level is a feature that marks a level as a "Hard Level" in-game. Notice that, the "hard" label may not be the same as the difficulty rated by this wiki.
They are shown as skulls as of now, along with a purpler or bluish level button. We will still refer to such levels as hexagon levels. They were introduced in version 1.60.0 in mobile (HTML5) and shortly before the release of Dozy Dawn on Flash.
Hexagon levels can be involved in the completion of many quests, including the ongoing Piggy Bank, getting more points for Fantastic Five, or getting "scrolls" for Candy Chronicles. However, many evenst regarding the completion of hexagon levels are premium content meaning they can only be realized by paying real-world money (not even gold); the Piggy Bank is an ongoing example.
The list of hexagon levels will be subject to change. A level may change from normal to a hexagon or vice versa. This generally happens when a level is redesigned, but sometimes, it happens without redesigning. King may track the number and ratios of successes and failures relative to other levels. Some early levels with a higher degree of a challenge may also be determined as hexagonal. Level 10 is traditionally designated as a hexagonal throughout its existance despite its easy difficulty.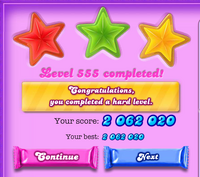 Before, the set of hexagon levels in Flash may not be the same as the set of skull levels in mobile excluding recently released web-only levels (for example Level A is a hexagon only in flash, but exists as a non-hexagon in HTML5). Hexagon levels in Flash were usually updated before HTML5.
Levels of hardness
[
]
Around February 2017 in mobile (HTML5), thunderstorm levels are implemented. They mark levels as "super hard levels." They are represented as skulls, but, in addition to that, the level button is now dark blue hiding the level type, and a dark blue thundercloud hovers just over it. They are never realized on Flash, and are still displayed as hexagons. Generally, King only sets at most one level in an episode as a thunderstorm level.
Later, in a mobile update in September 2018, owl levels are implemented. They mark levels as "nightmarishly hard levels". They are represented by skulls and the level button is black hiding the level type, and Odus appeared in the intro. Generally, King only sets at most one level in an episode as an owl level, and even then episodes with both thunderstorm and owl levels generally do not exist.
Around April Fools 2020, the designs for all hexagon levels have been revamped such that they are always represented as skulls alone. Furthermore, all level type colors have been hidden such that they range from pink to dark blue depending on how "hexagonal" the level is as determined by King.
Trivia
[
]
The hexagonal design of these marked levels were changed to skulls before thunderstorm levels were introduced. Thus, hexagonal levels technically only ever referred to levels simply marked as a "Hard Level".
Until March 2022, King assigned at most six levels in an episode as hexagonal, and only at most one level as either thunderstorm or owl. It is only around late March where episode may have multiple thunderstorm or owl levels. [1]

Currently, episodes may have up to ten hexagonal levels. One had seven thunderstorm levels and another had four owl levels.
See also
[
]
Gallery
[
]