m

(23 intermediate revisions by one other user not shown)
Line 1:
Line 1:
−

{{Leveltabs}}

 
 

{{Infobox level

 

{{Infobox level

 

| image = Level 1689 Reality.png

 

| image = Level 1689 Reality.png

−

| epimage = Sugar-Shrubs.png

 
−

| episode = Sugar Shrubs

 
−

| type = Candy Order

 
 

| orders = {{Order|popcorn|1|chocolate|10|liquorice swirl|30}}

 

| orders = {{Order|popcorn|1|chocolate|10|liquorice swirl|30}}

−

| moves = {{Moves|35}}

+

| moves = 35

 

| target = 50,000

 

| target = 50,000

 

| blockers = {{Blocker|Liquorice Swirl|One-layered Icing|Locked Chocolate Spawner|Popcorn}}

 

| blockers = {{Blocker|Liquorice Swirl|One-layered Icing|Locked Chocolate Spawner|Popcorn}}

−

| other = {{Other|CannonL|Mystery Candy|Conveyor Belt|Portals}}

+

| other = {{Other|Mystery Candy|Conveyor Belt|Portals}}

 

| candies = 5

 

| candies = 5

 

| spaces = 68

 

| spaces = 68

−

| previous = 1688

 
−

| prevtype = Mixed

 
−

| next = 1690

 
−

| nexttype = Mixed

 
 

}}

 

}}

 

{{Level Passage

 

{{Level Passage

−

| numberinepisode = fourth

 
−

| episode = Sugar Shrubs

 
−

| numberintype = 356th

 
−

| type = candy order

 
 

| requirement = {{OrderRequirement|popcorn|1|chocolate|10|liquorice swirl|30}}

 

| requirement = {{OrderRequirement|popcorn|1|chocolate|10|liquorice swirl|30}}

 

| moves = 35

 

| moves = 35

 

}}

 

}}

 
+
−

[[Corpse Torture|Fu]][[Corpse Torture|ck]]

 
−

[[Corpse Torture|Cu]][[Corpse Torture|nt]]

 
 

==Difficulty==

 

==Difficulty==

 
+

*All chocolate spawners are locked. Moreover, there is a conveyor belt, which does not allow the chocolate to spread.

 
+

**However, in this case, you will need ten chocolates. You have to unlock the chocolate spawners to produce the chocolate. Do not worry, as you clear the liquorice locks, the one layered icing will also be cleared.

 
+

***Yet they are only able to spawn up to five when possible. So you have to clear them to make room for the other five.

 
+

*The popcorn on the middle can be hard to clear. Moreover, the board may clog up with liquorice swirls.

 

*The orders are worth 14,000 points.<ref>(1 popcorn square × 10,000 points per popcorn square) + (40 blockers × 100 points per blocker) = 14,000 points</ref> Hence, an additional 36,000 points is required to earn one star.

 

*The orders are worth 14,000 points.<ref>(1 popcorn square × 10,000 points per popcorn square) + (40 blockers × 100 points per blocker) = 14,000 points</ref> Hence, an additional 36,000 points is required to earn one star.

 

{{Clear}}

 

{{Clear}}

Line 39:
Line 30:
 
 
 

==Trivia==

 

==Trivia==

−

*This is the fourth level to have useless [[Chocolate Spawner|chocolate spawners]]. There are two of them, which are on 2nd and 8th columns (the first being [[level 220]], second being [[level 299]], and the third being [[level 1596]]).

+

*This is the level to have useless [[Chocolate Spawner|chocolate spawners]]. There are two of them, which are on 2nd and 8th columns (the first being [[level 220]] and the being [[level ]]).

 
 
 

==Notes==

 

==Notes==

Line 60:
Line 51:
 

</gallery>

 

</gallery>

 

{{Levels}}

 

{{Levels}}

 
+

{{LevelsHTML5}}

−

[[Category:Candy Order levels]]

 
−

[[Category:Sugar Shrubs levels]]

 
−

[[Category:Levels with blocker orders]]

 
−

[[Category:Levels with 35 moves]]

 
−

[[Category:Levels with 64-80 spaces]]

 
−

[[Category:Levels with five candy colours]]

 
−

[[Category:Levels with candy cannons]]

 
−

[[Category:Levels with conveyor belt portals]]

 
−

[[Category:Levels with conveyor belts]]

 
−

[[Category:Levels with mystery candies]]

 
−

[[Category:Levels with one-layered icing]]

 
−

[[Category:Levels with chocolate spawners]]

 
−

[[Category:Levels with liquorice locks]]

 
−

[[Category:Levels with liquorice swirls]]

 
−

[[Category:Levels with popcorn]]

 
−

[[Category:Redesigned levels]]

 
−

[[Category:Buffed levels]]

 
---
Revision as of 17:08, 30 May 2020
Episode

Level type
Orders
: 1   : 10   : 30
Moves
Target score
: 50,000 pts
Blockers
    25px  
Other features
      
Colours
5

Spaces
68
Difficulty
Hard
Level 1689 is the fourth level in Sugar Shrubs and the 371st candy order level. To pass this level, you must collect , 10 chocolate squares and 30 liquorice swirls in 35 moves or fewer. When you complete the level, Sugar Crush is activated and will score you additional points.
Difficulty
All chocolate spawners are locked. Moreover, there is a conveyor belt, which does not allow the chocolate to spread.

However, in this case, you will need ten chocolates. You have to unlock the chocolate spawners to produce the chocolate. Do not worry, as you clear the liquorice locks, the one layered icing will also be cleared.

Yet they are only able to spawn up to five when possible. So you have to clear them to make room for the other five.

The popcorn on the middle can be hard to clear. Moreover, the board may clog up with liquorice swirls.
The orders are worth 14,000 points.[1] Hence, an additional 36,000 points is required to earn one star.
Stars
Strategy
Try to make vertical striped candies to clear all the one-layered icing and continue doing this again to hit the popcorn and chocolate.
Match candies to collect all the liquorice swirls.
Trivia
Notes
Board Info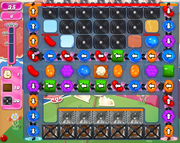 Orange line(s) show where the candies spawn.
Red line(s) show where the candies and liquorice swirls spawn.
Brown line(s) show where the candies, liquorice swirls and mystery candies spawn.
Arrows (↑,↓,←,→) indicate the direction which the conveyor belts move towards.
The conveyor teleporters having identical letters indicate where the entry and exit is.
Elements Info
Element Spawn Notes
Elements
Notes
Miscellaneous Info
↑ (1 popcorn square × 10,000 points per popcorn square) + (40 blockers × 100 points per blocker) = 14,000 points
Walkthroughs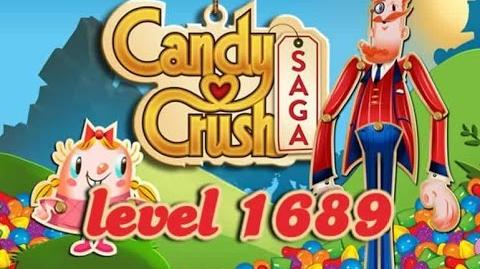 Gallery
Community content is available under
CC-BY-SA
unless otherwise noted.