m

(40 intermediate revisions by one other user not shown)
Line 1:
Line 1:
 

{{Leveltabs}}

 

{{Leveltabs}}

 

{{Infobox level

 

{{Infobox level

−

| image = Level 206 Reality.png

+

| image = Level 206 Reality.png

−

| epimage = Sweet-Surprise.png

+

| =

−

| episode = Sweet Surprise

+

| =

−

| type = Order

+

| =

 
⚫
−

| orders = {{Order|color|5}}

 
−

| moves = {{Moves|50}}

+

| = {{|}}

−

| target = {{Score|25,000}}

+

| =

 
⚫
⚫
 
−

| other = {{Other|Colour Bomb}}

 
−

| candies = {{Candy|5}}

 
⚫
 
−

| previous = 205

 
−

| prevtype = Ingredient

 
−

| next = 207

 
−

| nexttype = Jelly

 
 

}}

 

}}

 

{{Level Passage

 

{{Level Passage

−

| numberinepisode = sixth

 
−

| episode = Sweet Surprise

 
 

| numberintype = 29th

 

| numberintype = 29th

 
⚫
−

| type = order

 
⚫
 
−

| score = 25,000

 
 

| moves = 50

 

| moves = 50

 

}}

 

}}

 
 
 

==Difficulty==

 

==Difficulty==

−

*The player is provided three colour bombs under [[marmalade]], but they are on peninsulas and further isolated by [[liquorice swirl]]s and [[Four-layered Icing|4-layer icing]].

+

*The player is provided three colour bombs under [[marmalade]], but they are on peninsulas and further isolated by [[liquorice ]] and [[Four-layered Icing|- icing]].

 

*There are a limited number of places on the complex board to make the other two colour bombs required to complete the order, but having only five colours helps.

 

*There are a limited number of places on the complex board to make the other two colour bombs required to complete the order, but having only five colours helps.

−

*It's also helpful that you get a generous 50 moves.

+

*It also helpful that you get a generous 50 moves.

−

*The orders are worth 5,000 points.<ref>5 special candies x 1,000 points per special candy = 5,000 points</ref> Hence, an additional 20,000 points is required to earn one star.

 
 

{{Clear}}

 

{{Clear}}

 
 
Line 42:
Line 30:
 

*Look out for any potential colour bombs and try to position some [[candies]] to make them. Otherwise use the current colour bombs provided to filter out certain colours.

 

*Look out for any potential colour bombs and try to position some [[candies]] to make them. Otherwise use the current colour bombs provided to filter out certain colours.

 

*Then all you need to do is make two colour bombs, which should not be a hard task, considering only five colours are present on the board, and the possibility of colour-filtering from previous colour bomb(s).

 

*Then all you need to do is make two colour bombs, which should not be a hard task, considering only five colours are present on the board, and the possibility of colour-filtering from previous colour bomb(s).

−

*You could make a colour bomb + striped candy combination, but this isn't needed as much as some other levels, and this is very hard to do. It also cripples your score, which may be lethal if you are playing this level as a [[Mystery Quests|mystery quest]].

+

*You could make a colour bomb + striped candy combination, but this needed as much as some other levels, and this is very hard to do. It also cripples your score, which may be lethal if you are playing this level as a [[Mystery Quests|mystery quest]].

 

*Instead, simply use the colour bombs in other methods, and you will not need to worry about getting three stars.

 

*Instead, simply use the colour bombs in other methods, and you will not need to worry about getting three stars.

 
 
 

==Notes==

 

==Notes==

−

===Board Info===

+

Board Info

 
⚫
−

[[File:Level 206 Reality Notes.png|thumb]]

 
−

{{Notes|Orange}}

 
⚫
 
−

{{ref}}

 
 
 
 

==Walkthroughs==

 

==Walkthroughs==

−

[[File:Candy Crush Saga Level 206|thumb|left|300px]]

+

[[File:Candy Crush Saga Level 206|thumb|left|300px]]

−

[[File:Candy Crush Saga Level 206 - 2 Star - no boosters|thumb|right|300px]]

+

[[File:Candy Crush Saga Level 206|thumb|right|300px]]

 
+

[[File:Candy Crush Saga Level 206 - 2 Star - no boosters|thumb|left|300px]]

 
+

[[File:Candy Crush Saga Level 206 (Candy Order level) - 3 Stars Walkthrough, No Boosters|thumb|right|300px]]

 

{{Clear}}

 

{{Clear}}

 
 
 

==Gallery==

 

==Gallery==

 

<gallery>

 

<gallery>

−

Screenshot 2015-06-27-09-22-33.png|Mobile version

+

.png|Mobile version

 

Level 206 Reality icon.png|Level icon

 

Level 206 Reality icon.png|Level icon

 

</gallery>

 

</gallery>

−
 
−

==References==

 
−

{{Reflist}}

 
 

{{Levels}}

 

{{Levels}}

 
+

{{LevelsHTML5}}

−

[[Category:Candy order levels]]

 
−

[[Category:Sweet Surprise levels]]

 
−

[[Category:Levels with 50 moves]]

 
−

[[Category:Levels with 55-63 spaces]]

 
−

[[Category:Levels with five candy colours]]

 
−

[[Category:Levels with colour bombs]]

 
−

[[Category:Levels with four-layered icing]]

 
−

[[Category:Levels with liquorice swirls]]

 
−

[[Category:Levels with marmalade]]

 
−

[[Category:Orders that require special candies]]

 
−

[[Category:Somewhat easy levels]]

 
---
Revision as of 21:23, 20 October 2019
Episode

Level type
Orders
: 5
Moves
Target score
: 25,000 pts
Blockers
    
Other features
Colours
5

Spaces
61
Difficulty
Somewhat Easy
| Previous | Current | Next |
| --- | --- | --- |
| | | |
| 205 | 206 | 207 |
Level 206 is the sixth level in Sweet Surprise and the 59th candy order level. To pass this level, you must collect 5 colour bombs in 50 moves or fewer. When you complete the level, Sugar Crush is activated and will score you additional points.
Difficulty
The player is provided three colour bombs under marmalade, but they are on peninsulas and further isolated by liquorice swirls and four-layered icing.
There are a limited number of places on the complex board to make the other two colour bombs required to complete the order, but having only five colours helps.
It is also helpful that you get a generous 50 moves.
Stars
Strategy
Try to clear the icing first.
You are provided three colour bombs, so try to reach them quickly by breaking the many blockers in the way.
Look out for any potential colour bombs and try to position some candies to make them. Otherwise use the current colour bombs provided to filter out certain colours.
Then all you need to do is make two colour bombs, which should not be a hard task, considering only five colours are present on the board, and the possibility of colour-filtering from previous colour bomb(s).
You could make a colour bomb + striped candy combination, but this is not needed as much as some other levels, and this is very hard to do. It also cripples your score, which may be lethal if you are playing this level as a mystery quest.
Instead, simply use the colour bombs in other methods, and you will not need to worry about getting three stars.
Notes
Board Info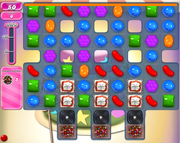 Orange line(s) show where the candies spawn.
Miscellaneous Info
Walkthroughs
Gallery
Community content is available under
CC-BY-SA
unless otherwise noted.