(19 intermediate revisions by 9 users not shown)
Line 1:
Line 1:
 

{{Leveltabs}}

 

{{Leveltabs}}

 

{{Infobox level

 

{{Infobox level

−

| image = Level 601 Reality.png

+

| image = Level 601 .png

−

| epimage = Wafer-Windmill.png

 
−

| episode = Wafer Windmill

 
−

| type = Ingredients

 
 

| ingredients = {{Ingredients|2|3}}

 

| ingredients = {{Ingredients|2|3}}

−

| moves = {{Moves|40}}

+

| moves =

 

| target = 60,000

 

| target = 60,000

 

| other = {{Other|CannonI|Conveyor Belt|Portals|Sugar Drop}}

 

| other = {{Other|CannonI|Conveyor Belt|Portals|Sugar Drop}}

−

| candies = 6

+

| candies =

 

| spaces = 69

 

| spaces = 69

−

| previous = 600

 
−

| prevtype = Ingredients

 
−

| next = 602

 
−

| nexttype = Ingredients

 
 

}}

 

}}

 

{{Level Passage

 

{{Level Passage

−

| numberinepisode = eleventh

 
−

| episode = Wafer Windmill

 
 

| numberintype = 158th

 

| numberintype = 158th

−

| type = ingredients

 
 

| requirement = {{IngredientsRequirement|2|3}}

 

| requirement = {{IngredientsRequirement|2|3}}

−

| score = 60,000

+

| =

−

| moves = 40

 
 

}}

 

}}

 
 
 

==Difficulty==

 

==Difficulty==

−

*Ingredient exits are close to the center of the board, which may be confusing for some players.

+

*Ingredient exits are close to the of the board, which may be confusing for some players.

 

*The player may waste a lot of moves if the player misses the [[Conveyor Belt|conveyor belt]].

 

*The player may waste a lot of moves if the player misses the [[Conveyor Belt|conveyor belt]].

−

*The ingredients are worth 50,000 points.<ref>5 ingredients × 10,000 points per ingredients = 50,000 points</ref> Hence, an additional 10,000 points is required to earn one star.

 
 

{{Clear}}

 

{{Clear}}

 
 
Line 47:
Line 35:
 

[[File:Level601 glitched.png|thumb|150px|right|An extra cherry.]]

 

[[File:Level601 glitched.png|thumb|150px|right|An extra cherry.]]

 

This glitch only appears on web version:

 

This glitch only appears on web version:

−

*The portal in the center is displayed incorrectly. It shall be one tile higher at the end of conveyor belt.

+

*The portal in the is displayed incorrectly. It shall be one tile higher at the end of conveyor belt.

 

*This is one of the levels where the dispenser may spawn extra ingredients.

 

*This is one of the levels where the dispenser may spawn extra ingredients.

 
 
 

==Notes==

 

==Notes==

−

{{Board Info|601 Reality|Orange|Green|TealSq|Arrows|Letters}}

 
 

{{Elements Info

 

{{Elements Info

 

| ingredients density = 40

 

| ingredients density = 40

 

| ingredients on screen = 4

 

| ingredients on screen = 4

 

}}

 

}}

−

{{Miscellaneous Info}}

 
 
 
 

==Walkthroughs==

 

==Walkthroughs==

−

[[File:Candy Crush Saga Level 601|thumb|left|300px]]

+

[[File:Candy Crush Saga Level 601|thumb|left|300px]]

−

[[File:Candy crush saga level 601 - 2 stars no booster used|thumb|right|300px]]

 
 

{{Clear}}

 

{{Clear}}

 
 
 

==Gallery==

 

==Gallery==

 

<gallery>

 

<gallery>

−

Screenshot 2015-07-22-09-46-46.png|Mobile version (with correct portal)

 
−

Level 601 Reality icon.png|Level icon

 
 

</gallery>

 

</gallery>

 

{{Levels}}

 

{{Levels}}

 
+

{{LevelsHTML5}}

−

[[Category:Ingredients levels]]

 
−

[[Category:Wafer Windmill levels]]

 
−

[[Category:Levels with 40 moves]]

 
−

[[Category:Levels with 64-80 spaces]]

 
−

[[Category:Levels with six candy colours]]

 
−

[[Category:Levels with candy cannons]]

 
−

[[Category:Levels with conveyor belts]]

 
−

[[Category:Levels with conveyor belt portals]]

 
−

[[Category:Levels without blockers]]

 
−

[[Category:Somewhat hard levels]]

 
---
Revision as of 20:56, 27 October 2019
Episode

Level type
Ingredients
: 2   : 3
Moves
Target score
: 60,000 pts
Blockers
None
Other features
      
Colours
5

Spaces
69
Difficulty
Somewhat Easy
| Previous | Current | Next |
| --- | --- | --- |
| | | |
| 600 | 601 | 602 |
Level 601 is the eleventh level in Wafer Windmill and the 164th ingredients level. To pass this level, you must collect 2 hazelnuts and 3 cherries in 49 moves or fewer. When you complete the level, Sugar Crush is activated and will score you additional points.
Difficulty
Ingredient exits are close to the centre of the board, which may be confusing for some players.
The player may waste a lot of moves if the player misses the conveyor belt.
Stars
Strategy
Make sure that candies already in the inside lanes do not fall to the outside lanes, as they will take longer to reach the drop zone.
When the ingredients get close to the exit, use striped candies to ensure they get to the drop zones.
Trivia
This is the first level in this episode in which the ingredient exits are not at the extreme edges of the board.
This is the only level in Wafer Windmill to have six candy colours.
This level spawned sugar drops before this element was removed.
Glitch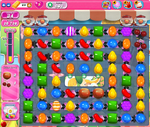 This glitch only appears on web version:
The portal in the centre is displayed incorrectly. It shall be one tile higher at the end of conveyor belt.
This is one of the levels where the dispenser may spawn extra ingredients.
Notes
Elements Info
Element Spawn Notes
Elements
Notes

Ingredient spawn density: 40 moves
If there are fewer than 4 ingredients on the screen, then the board spawns up to 4 ingredients when possible.
Walkthroughs
Gallery