Removed content

This page contains information about content that was previously in the game but now got removed.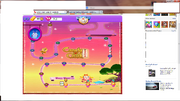 This is the list of levels in Dreamworld. There were 665 levels and 45 episodes in Dreamworld.
 Difficulty code summary (details here)
None • Very Easy • Easy • Somewhat Easy • Medium • Somewhat Hard • Hard • Very Hard • Extremely Hard • Nearly Impossible • Variable
All timed levels seem to be replaced with another level type which includes 7 new moves levels, 15 new jelly levels, 6 new ingredients levels, and 10 new candy order levels. In addition, two of the jelly levels has been replaced by a candy order levels (172 and 276), and one moves level has been replaced by a jelly level (612).
For candy order levels that require specific coloured candies, the moon scale works as normal. For example, if the moon scale requires the balance of blue and purple candies, but the level requires 35 blue candies and only includes single moon struck, the absence of blue candies during the only moon struck may make the level impossible.
Dreamworld includes 25 moves levels (3.76%), 304 jelly levels (45.71%), 181 ingredients levels (27.22%), and 155 candy order levels (23.31%).
Originally, Dreamworld was only going to be a trial to see if the idea would work. 
Some Dreamworld levels are much harder than Reality levels, however, some are not.
Community content is available under
CC-BY-SA
unless otherwise noted.