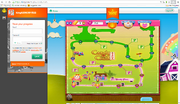 Candy Crush Saga is known for having more levels than most other games have. There are currently 7775 levels (7865 levels on Windows 10 App version), all within 519 episodes on mobile (525 episodes on Windows 10 App version), each with fifteen levels apart from the first two episodes which hold ten levels each. There are now five level types in Candy Crush Saga: Moves
, Jelly

, Ingredients

, Candy Order

, Mixed Mode

. Rainbow Rapids

will be introduced soon.
Here is a complete list of levels in the game. 
 Difficulty code summary (details here)
None • Very Easy • Easy • Somewhat Easy • Medium • Somewhat Hard • Hard • Very Hard • Extremely Hard • Nearly Impossible • Variable
A lot of the information for this list is outdated (since the removal of timed levels from the game). Please help us update the list if you got a spare moment. Thank you very much!
Access to the respective pages by typing the following:
List of Levels/World [insert number in standard form]