The information is outdated.

The information in this page is now outdated as of 15 July 2020. It hasn't been updated in more than a month even though updates are done at a much higher frequency.

The content of this page was lately updated at 05/05/2017 PM 08:39 (UTC).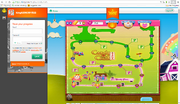 Candy Crush Saga is known for having more levels than most other games have. There are currently 7370 levels all with in 492 episodes on web version (7340 levels within 490 episodes on mobile), each with fifteen levels apart from the first two episodes which hold ten levels each. There are six level types in Candy Crush Saga: Moves
, Jelly

, Ingredients

, Timed

, Candy Order

, and Mixed

.
Here is a complete list of Reality levels in the game. A complete list of Dreamworld levels can found at List of Dreamworld Levels.
 Difficulty code summary (details here)
None • Very Easy • Easy • Somewhat Easy • Medium • Somewhat Hard • Hard • Very Hard • Extremely Hard • Nearly Impossible • Variable
 Note that goals include target score.
Access the respective pages by typing the following:
List of Levels/World [insert number in word form]

See also