Loading is a feature in Candy Crush Saga. It loads the entire game, levels or go into Dreamworld.
Facebook Version
Edit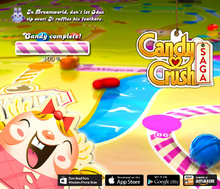 The first time you start the game, a Loading Screen appears accompanied by a loading bar. Each paragraph of % will appear the inscription different, namely:
15% : Adding Frosting
33% : Measuring Sugar
50% : Heating Oven
66% : Sampling Candy Mix
83% : Polishing
100% : Candy Complete!
Once you enter a level, it must also load the levels then you can play. It was a circle with pink-white stripes turning constantly.
Mobile Version
Edit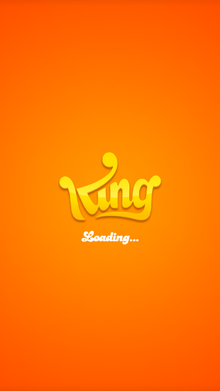 It appears as an orange screen with the logo of King.com and the flashing "Loading..." in the middle of screen. It appears when starting the game or starting a level in a different episode.
As of v1.76, Tiffi will appear and give random info.
This part may have a problem (if your computer is slow or incidents Internet) will cause bad consequences for players like: The entire game can not load all, can not play a level or stuck in the dreamworld.
On the web, the screen takes place around Bubblegum Bridge, Salty Canyon, and Easter Bunny Hills.
Community content is available under
CC-BY-SA
unless otherwise noted.