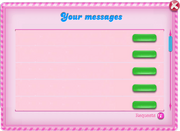 Message Center is an element in Candy Crush Saga. It was released in November 2013. In the center, friends can send help (+3 moves

, lives
, tickets

if needed) or requests (lives and tickets). Before there was a mail icon in the corner, almost all life gifts were wasted, rendering them pretty much useless.
Some Information about Message Center
Edit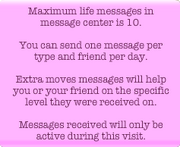 When you cursor icon

, some information will appear:
Maximum life message in message center is 10.
You can send on message per type and friend per day.
Extra moves messages will help you or your friend on the specific level they were received on.
Messages received will only be active during this visit.
This feature was introduced on mobile earlier than Web.
If you play on Web, the messages will stay in the inbox unless you leave the game.
Tickets don't appear in the inbox on Web. Instead, there is a pop-up saying that you received a ticket. Pressing "ok" will remove the pop up. On mobile, they appear in the inbox.
Unlimited messages in the Windows 10 and iOS.
This is accessible in both Reality and Dreamworld

However, as of mobile versions v1.68 the message center is no longer accessible in Dreamworld.
Community content is available under
CC-BY-SA
unless otherwise noted.