Removed content

This page contains information about content that was previously in the game but now got removed.
Moves levels was one of the seven level types in Candy Crush Saga. This level type's icon was orange with two white left and right arrows.
Moves levels used to appear as the first five levels of the game before they were all replaced with new order level tutorials.
In Dreamworld, they made up 3.76% of the 665 Dreamworld levels, at 25 moves levels overall. 7 timed levels in Reality were converted to moves levels as their Dreamworld counterparts.
Moves levels were common in the first year of the game, after which they did not appear until Cereal Sea. The rare presence of moves levels was due to the fact that this was the simplest level type. After a fluctuating trend, it was fixed to an average of 1 per episode starting in Pudding Patch. Moves levels did not appear after Bubble Base.
Many timed levels had been changed to moves levels, before being redesigned into other types of levels starting in late 2020.
On 13 July 2021, almost every remaining moves level was converted into other level types. On 31 August 2021, the last 25 moves levels were redesigned, thereby making this level type extinct.
Compared to the other types, moves were the easiest.
Objective
[
]

To win moves levels, the player had to reach at least a certain score within a set amount of moves. Unless the player hadn't beaten the level, all moves had to be used, meaning they may had to watch out for Candy Bombs and other blockers. Once all moves were used, Sugar Crush would activate all special candies on the board.
Circa late 2019, an update on HTML5 impacted all moves levels. Now, when you reached the set target score, Sugar Crush would automatically be triggered, with a striped candy created per every remaining move, allotting the player 3,000 points each. However, this was only triggered on your first time completing a moves level, not replaying.
Web description
[
]
You have a limited number of switches before running out of moves. If you use up all your moves before reaching the score required to earn at least one star, you will fail the level.
Difficulty
[
]
Reality
[
]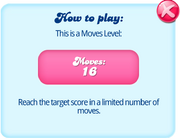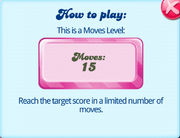 Moves levels were usually easier than any other level types, but there were still a few hard moves levels such as 3591, 3995, 4183, and 4766.
A majority of later moves levels were considerably more complex, often utilising bombs to prevent you from completing them even if you had reached the target score. Some of the later moves levels also required extremely high scores to pass.
If you reached 1 star, sugar crush would be activated. At first, all special candies on the board would be activated, then the remaining moves would be turned into striped candies, each scoring you 3,000 points, increasing the chance of getting sugar stars.
Dreamworld
[
]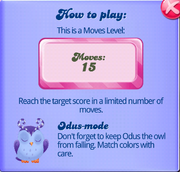 Moves levels were the easiest type in Dreamworld. There were no extremely hard moves levels. There were some very hard move levels, but not too many, unlike other types. Levels 43 and 114 were hard moves levels. Some levels (such as 122) were considered to be hard due to candy bombs. Also, as with Reality, you needed to reach the end of the level to pass; if the game ended by Odus falling off the moon scale, you would still fail the level.
Notable moves levels
[
]
Note: From March to April 2018, many timed levels were changed into moves levels. Some of the moves levels mentioned below were formerly timed levels. Later, in 2020-21, all moves levels were changed into other types.
Level 1 - The first moves level in the past. Also could not theoretically be failed, unless you pressed the quit button. Now it's a candy order level.
Level 899 - The first moves level in the game from 13 July to 31 August 2021. Also the first moves level with conveyor belts, liquorice shells, liquorice locks and UFOs.
Level 1739 - The first moves level with chocolate and frosting.
Level 1748 - The first moves level with candy bombs.
Level 1810 - The first moves level with marmalade and candy cannons.
Level 1825 - The moves level with the most moves (40) as well as the first moves level with liquorice swirls and candy frog.
Level 1832 - The first moves level with jelly fish.
Level 1890 - Currently the first and only moves level.
Level 2601 - The first moves level with magic mixers.
Level 2820 - The last moves level on the Flash version.
Level 3393 - The moves level with the lowest target score (22,500). The first moves level with chocolate fountain.
Level 3591 and Level 4678 - The moves levels with the least moves (17).
Level 3988 - The first moves level with toffee swirls, cake bomb, sugar keys and sugar chests.
Level 3995 - The moves level with the highest target score (320,000). The only moves level rated as "nearly impossible".
Level 4183 - The first moves level with candy cane fences.
Level 5264 - The first moves level with crystal candies, bobbers and coconut wheels. The second-to-last moves level in the game.
Level 5576 - The last moves level playable in the game.
Level 6822 - The last moves level King had ever made. It was eventually changed into a jelly level.
Trivia
[
]


As of 31 August 2021, all 25 moves levels in the game were either 4- or 5-coloured.
Moves levels and timed levels were the only types of levels where Sugar Crush could happen more than once. This would happen if the player bought Extra Moves or Extra Time after failing to reach the target score.
This was the first level type introduced in Candy Crush Saga before the the redesign of level 1 in mid-2021.
On mobile / HTML5, after the player got more than the one-star target score, the game would choose that score as a target for the next time they played the level. However, this does not affect the one-star target score.
When the scoring system changed in September 2020, upon release of 1.186, it made almost all moves levels much harder.
Liquorice curls, liquorice fences, order locks, sour skulls, bonbon blitz or dark chocolate fountains never appeared in moves levels. Jelly jars had no chance of appearing in moves levels even if they were still being made, since they could only appear in levels that require jelly. Also, moves levels and rainbow rapids levels (or rainbow rapids mixed levels) never coexisted in the same episode. Moves levels never had different colour schemes as opposed to the standard colour scheme.

There were no moves levels beyond the 5500s prior to their removal. Prior to moves levels being phased out, they never appeared in the 7000s or beyond.
List of Moves levels
[
]
This was the list of moves levels before they started phasing out of the game. Note that the "Gap" column is just for purpose of illustration.
Note: Some of the moves levels below were formerly timed levels before their removal.