Peppermint Palace is the 9th episode of Candy Crush Saga and the third episode of World Two. This episode was released on 20 June 2012. The champion title for this episode is Minty Sultan.
Before episode:
The Genie Jellybeanie who owns the palace is upset as a "Terrible Troll" (actually the Bubblegum Troll) has wreaked havoc on his palace.
After episode:
Tiffi pulls a large rope that pulls the broken palace back into position.
New things
Edit
Two-layered icing () is introduced. (Brief Description: A blocker that disappears after two adjacent matches.)
Sachets, also known as one layered icing, appear naturally on the board for the first time in level 116. (Brief Description: A blocker that disappears after one adjacent match.)
Candy bomb cannon is unofficially introduced in level 124, due to redesigning.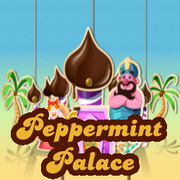 This episode contains levels 111-125.
Peppermint Palace is an easy episode. It has one somewhat hard level: 120. Overall, it is harder than the previous episode, Salty Canyon.
Sugar Drop levels

Level 112
Level 115
Level 122
 Difficulty code summary (details here)
None • Very Easy • Easy • Somewhat Easy • Medium • Somewhat Hard • Hard • Very Hard • Extremely Hard • Nearly Impossible • Variable
 Note that goals include target score.
Level
Type
Moves
Target score
Goal
Walkthrough
Remarks
111
90,000
: 47
is introduced
112
50,000
: 2   : 2
113
50,000
: 1
114
15,000
: 15,000 pts
115
25,000
: 16
116
100,000
: 38
A level that is shaped like a heart
is introduced
117
35,000
: 2   : 1
118
25,000
: 8
119
20,000
: 1
120
50,000
: 24
121
50,000
: 50,000 pts
122
40,000
: 40,000 pts
123
80,000
: 44
124
40,000
: 3
125
80,000
: 34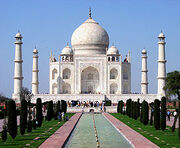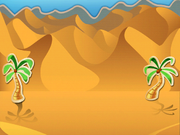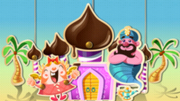 The old background of levels in this episode on mobile is a desert with 2 palm trees, but not have Genie's palace. Hence, this is the first episode to have a desert theme, followed by Pastille Pyramid and Butterscotch Boulders.
Currently, this episode and beyond on iOS and Android don't have a beginning or an ending story, but Salty Canyon and under have a beginning and an ending story (except Bubblegum Bridge on Mobile, which did not have an ending story for unknown reasons).
This episode is most likely based off in India, since the place is mostly in a desert and the palace that the episode takes place at is a candy version of the "Taj Mahal".
The day this episode releases coincides with "World Refugee Day".
The name of this episode is the same as the episode one in Pepper Panic Saga.
i
Community content is available under
CC-BY-SA
unless otherwise noted.