Quit Button is a fundamental element in Candy Crush Saga. This button is used if a player wants to leave a level without finishing it immediately.
Web version
Edit
If a player presses this button at any time once you enter the level he/she will lose a life automatically.
Starting June 28, 2017, the player can quit the level anytime on Facebook without losing a life provided that the player does not perform any moves.
Mobile version
Edit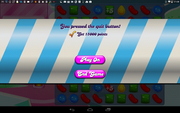 If a player enters a non-timed level, he/she may press this button without losing a life provided that he/she does not make any moves. This becomes very useful in many hard levels or levels where it is all about the quality of the initial board. This was changed in an update, however, and quitting without making a move does take a life now.
There is a slight glitch when pressing the quit button while a candy bomb count reaches zero. It will show the bomb exploding even though the player pressed the button before the all the candies stopped destroying.
The game messaged "You pressed the quit button!" will overwrite any other messages of losing.
As of Android 4.4 KitKat, the notification bar is now shown when the quit button is pressed. This was previously available for Samsung Galaxy devices. It is useful if the player needs to check what time it is now or if he/she needs to charge his/her device.
The player can no longer pause a timed level on web by using the quit button because time still counts down even while the quit button popup is shown.
Community content is available under
CC-BY-SA
unless otherwise noted.