Arcane: League of Legends - The Loop
Play Sound
Not to be confused with Rainbow Candy.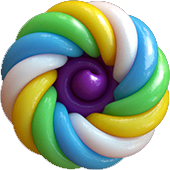 Rainbow Twist is one of the blockers in Candy Crush Saga. It was introduced in the 380th episode, with the first level being level 5676.
Appearances
[
]
For the list of levels with this blocker, see here.
Properties
[
]
The rainbow twist can have up to five layers.
It acts like liquorice link seen in the sequels (Candy Crush Soda, Candy Crush Jelly and Candy Crush Friends).

Specifically, the rainbow twists are linked together to form a chain and destroying any one of them destroys the whole chain.

The colours and layer numbers are as follows:
Candy canes can block rainbow twists from linking up, as seen in level 5694.
Rainbow twists encased by encasing blockers are not considered part of a chain. Once they are freed, they automatically link up with the rest of the rainbow twists adjacent to them.
Conveyor belts can move rainbow twists, which can result in chains of rainbow twists being linked and unlinked.
Notable levels
[
]
Trivia
[
]
This is the second element to be based around rainbows, the first one being Chameleon Candy.

However, only 5 colours can be present in rainbow twists, unlike rainbows, which in real life normally have seven colours. Also, unlike real-life rainbows that don't have white, rainbow twists have said colour.

It's similar to the blocker liquorice link, seen in Candy Crush Soda Saga and its sequels. However, all of the twists are breakable as of now, unlike Candy Crush Jelly Saga, which has an unbreakable one. Also, rainbow twists only have one base colour: purple, unlike liquorice links in sequels, which have two: pink and beige.
Rainbow twists can be seen in the background of their debut episode.

This is chronologically the last blocker that appears in the background of its debut episode. The next blocker, Sugar Coat, doesn't appear in the background of its debut episode and all blockers that have been released since cannot appear in the background, due to map textures being reused.

Rainbow twists can be spawned from magic mixers, starting on level 5874.
Rainbow twists can appear encased in marmalade in level 5680, in liquorice locks in level 5683, in sugar chests in level 5687, in crystal candies at the start in level 5689, in order locks in level 7905, and in skull pedestals in level 8045. When encased by encasing blockers, the rainbow twists are not considered part of a chain. Once they are freed from their encasing blockers, they will become part of the chain of rainbow twists adjacent to them.
Rainbow twists have the tilemap codes 129 to 133 (129 for one-layered rainbow twists, 130 for two-layered rainbow twists, 131 for three-layered rainbow twists, 132 for four-layered rainbow twists and 133 for five-layered rainbow twists).
Rainbow twists have the order number "29". The order icon is a five-layered rainbow twist.
The first few levels with rainbow twists do not allow you to use starting boosters, much like crystal candies.
Rainbow Twist order is required to unlock order locks from Level 7905.
If the rainbow twist was cleared, it does not clear a layer of jelly behind it. It also happens on Sour Skulls. Unlike these, Bubblegum Pops explode 3x3 and clear one layer of jelly on the blocker itself.
Rainbow twist order is the last order to be introduced in 2019.
Gallery
[
]