Not to be confused with Scrumptious Studio.
Episode
149
World (Flash)
40
World (HTML5)
30
Levels
2211-2225
Characters
Dexter
Champion title
Sundae Sergeant
New features
None
Release date
 - 28 December 2016
 - 11 January 2017
Difficulty
Very Hard
Previous
Next
Scrumptious Slopes is the 149th episode in Candy Crush Saga and the fourth episode of World 30 (HTML5). This episode was released on 28 December 2016. The champion title for this episode is Sundae Sergeant.
Story
[
]
Dexter, covered in snow, was out skiing when he suddenly trips and rolls down the slope. Tiffi adds sprinkles and a cherry on top, making him look like a delicious sundae.
New things
[
]
Levels
[
]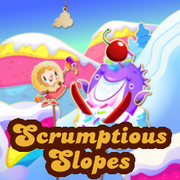 This episode contains levels 2211-2225.
Scrumptious Slopes is a very hard episode, with a mean of 5.33. It contains four somewhat hard - hard levels: 2215, 2221, 2222, and 2224, two very hard levels: 2212 and 2223, and three extremely hard levels: 2211, 2213, and 2218. Overall, this episode is much harder than the previous episode, Gumball Gorge.
Sugar Drop levels

Level 2214
Level 2218
Level 2222
 Difficulty code summary (details here)
None • Very Easy • Easy • Somewhat Easy • Medium • Somewhat Hard • Hard • Very Hard • Extremely Hard • Nearly Impossible • Variable
Level
Type
Moves
Target score
Goal
Walkthrough
Remarks
2211
71,000
: 56   : 15
2212
20,000
: 2
2213
10,000
: 2   : 64
2214
50,000
: 68
2215
5,000
: 15
2216
30,000
: 56
2217
20,000
: 2
2218
65,000
: 38   : 26
2219
20,000
: 2   : 75   : 75
2220
50,000
: 16
2221
45,000
: 4
2222
60,000
: 4
2223
30,000
: 3
2224
20,000
: 14   : 29

: 2

2225
50,000
: 69
Last Reality level that was released in 2016
Gallery
[
]
Trivia
[
]