This article is a stub that requires a cleanup to meet
the Candy Crush Saga Wiki's quality standards.

If you're adding this template to this page, give 1 or 2 reasons why the page is marked as a stub.

Reason for stub - Organize the page

Additional reason - unknown

Let's make this article better! You can fill out missing content, fix its grammar, and so on.

If you think this article has enough content, please remove this template.
For normal stars, see Stars.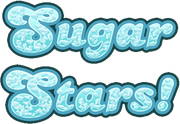 Sugar Stars is one of the elements in Candy Crush Saga.
These stars are hard to attain. They require the player to finish a level with double the three-star score. If you have sugar stars and a golden crown on a level, then it will say "Sweet Combo! Mastery on the first try!" and higher points. When the target score for Sugar Stars is reached, the voice in the game can be heard saying "Sugar Stars!" If the player passes the level, he or she will keep the Sugar Stars, indicated by three cyan stars on the map for that level. The player cannot earn Sugar Stars before Level 51.
Obtaining Sugar Stars in levels contribute to earning crowns.
They were introduced in an update in July 2019.
Sugar stars were used to master levels that will earn rewards like 10% bonus score, 5 minutes off in lives, and even obtain a Master Trophy, like Gold Crowns.
Glitch
[
]
There is a glitch when you earn sugar stars on mobile. If you go to the Flash version of the site, there were no stars on the level you earned on the same level with sugar stars. When you click on this level, it doesn't say the target score, but there were three stars. It also say "et taret," which means "and it would be" in Latin, at 1,000,000 points. In some levels that have sugar stars on HTML5 and no stars at Flash version in the same level, it is sometimes impossible to get a million points.