Episode
113
World (Flash)
28
World (HTML5)
23
Levels
1671-1685
Characters
Odus (Flash/HTML5 old), Pete (HTML5 new)
Champion title
Fungus Fixer
New features
()
Release date
 - 20 April 2016
 - 4 May 2016
Difficulty
Very Hard
Previous
Next
Taffy Treetops is the 113th episode in Candy Crush Saga and the second episode of World Twenty-Eight. This episode was released on 20 April 2016. The champion title for this episode is Fungus Fixer.
Câu chuyện
Edit
Odus rất vui vì Tiffi đã sửa lại ngôi nhà của mình, nơi có mái nhà bị dột.
Những thứ mới
Edit
Về mặt kỹ thuật, không có gì mới được thêm vào, tuy nhiên, máy trộn ma thuật có thể tạo ra 18 quả bom kẹo di chuyển lần đầu tiên ở cấp độ 1679 .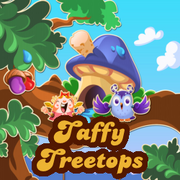 This episode contains levels
1671
-
1685
.
Taffy Treetops là một tập rất khó, với điểm trung bình là 5,6. Nó chứa năm cấp độ hơi cứng: 1672, 1680, 1681, 1683và 1684, sáu cấp độ cứng: 1671, 1673, 1675, 1676, 1677và 1678, một mức rất cứng: 1682 , và một mức độ cực kỳ khó khăn: . Nhìn chung, tập này khó hơn nhiều so với tập trước, Honey Highlands .16821685
Sugar Drop levels

Level 1672
Level 1677
Level 1683
 Difficulty code summary (details here)
None • Very Easy • Easy • Somewhat Easy • Medium • Somewhat Hard • Hard • Very Hard • Extremely Hard • Nearly Impossible • Variable
Bộ sưu tập
Edit
Chuyện bên lề
Edit
Community content is available under
CC-BY-SA
unless otherwise noted.