Episode
113
World (Flash)
28
World (HTML5)
23
Levels
1671-1685
Characters
Odus (Flash/HTML5 old), Pete (HTML5 new)
Champion title
Fungus Fixer
New features
()
Release date
 - 20 April 2016
 - 4 May 2016
Difficulty
Extremely Hard
Previous
Next
Taffy Treetops is the 113th episode in Candy Crush Saga and the third episode of World 23 (HTML5). This episode was released on 20 April 2016. The champion title for this episode is Fungus Fixer.
Story
[
]
Odus is happy that Tiffi fixed his house, which had a leak in the roof.
New things
[
]
Technically, nothing new is added, however, magic mixers can spawn 18 move candy bombs for the first time in level 1679.
Levels
[
]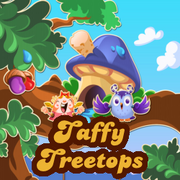 This episode contains levels 1671-1685.
Taffy Treetops is an extremely hard episode, with a mean of 6.07. It contains six hard levels: 1671, 1677, 1678, 1681, 1682 and 1683, two very hard levels: 1673 and 1675, and three extremely hard levels: 1676, 1680 and 1685. Overall, this episode is much harder than the previous episode, Honey Highlands.
Sugar Drop levels

Level 1672
Level 1677
Level 1683
 Difficulty code summary (details here)
None • Very Easy • Easy • Somewhat Easy • Medium • Somewhat Hard • Hard • Very Hard • Extremely Hard • Nearly Impossible • Variable
| | | | | | | | |
| --- | --- | --- | --- | --- | --- | --- | --- |
| | Level | Type | Moves | Target score | Goal | Walkthrough | Remarks |
| | 1671 | | | 20,000 | : 1 | | |
| | 1672 | | | 10,000 | : 5   : 2   : 40 | | |
| | 1673 | | | 50,000 | : 2   : 2 | | |
| | 1674 | | | 6,500 | : 30 | | |
| | 1675 | | | 20,000 | : 2   : 2 | | |
| | 1676 | | | 100,000 | : 6 | | |
| | 1677 | | | 40,000 | : 3   : 17 | | |
| | 1678 | | | 20,000 | : 10 | | |
| | 1679 | | | 130,000 | : 64 | | |
| | 1680 | | | 40,000 | : 15   : 60 | | |
| | 1681 | | | 90,000 | : 42 | | |
| | 1682 | | | 12,500 | : 130 | | |
| | 1683 | | | 55,000 | : 27 | | |
| | 1684 | | | 115,000 | : 57 | | |
| | 1685 | | | 138,000 | : 69 | | |
Gallery
[
]
<gallery navigation="true">
Taffytreetops.png|Episode icon
Trivia
[
]