She doesn't get what we mean, I mean that the picture avoids to include the outside background of the game, as shown at the behind of the picture.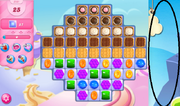 Just like what 
Pops8459394
 crop the pictures, no any border for outside background, this is what I want.
You also can refer to some few old levels picture that recently redesigned and uploaded by me.