Two-layered Frosting is a blocker in Candy Crush Saga, making its first appearance in level 111. Two hits are required to break this blocker.
Appearances
[
]

Two-layered frosting consists of white, opaque whipped frosting in a small plastic silver sachet.
For the list of levels with this blocker, see here.
Properties
[
]

Two-layered frostings are single-tile stationary blockers that takes two tries to destroy. When degraded once, it becomes a one-layered frosting. These blockers can be destroyed by an adjacent match, an effect of a special candy (including jelly fish), or a cake bomb explosion. Jelly can hide under this type of blocker.
Here is the difficulty of destroying a Two-layered Frosting:
| Degrade/Name | Lead Topping Colour | Difficulty |
| --- | --- | --- |
| Two-layered Frosting | White | Easy |
| One-layered Frosting | Silver/None | Very easy |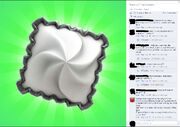 Trivia
[
]
This element has been mistaken as multiple look-alikes, such as ice cream, cream, whipped cream, flurr, topping, meringues, and even glue.
Surprisingly, these blockers appear earlier than raw sachets by five levels.
Starting with level 1330, this blocker can be spawned by the magic mixer.
Starting with level 2623, this blocker can be found in liquorice locks.
Starting with level 2705, this blocker can be found in sugar chests.
Starting with level 2814, this blocker can be found in marmalade.