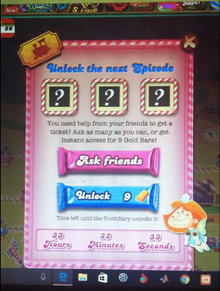 Ticket countdown screen showing 33 hours, 32 minutes, and 33 seconds remaining before the Tooth Fairy unlocks the next episode. Notice the pattern in the digits on the timer. Had I taken this photo a minute earlier, it would have been 33:33:33, but the page was a little bit slow to load at the time. I was at the bus stop between Level 410 and Level 411. A few hours later, I used gold to unlock Level 411 before the point when the Tooth Fairy would have automatically unlocked it for me. The following picture is a still of a video I recorded on my iPhone at 04:45 EDT (08:45 UTC) on 9 May 2017.

PS: I was not feeling my best that day because I chose not to sleep the night before. I don't know about you, but I have a difficult time feeling my best right after a sleepless night.
Game stats
Edit
Current level of progress
Edit
Warning: The times in the history of this page may not necessarily reflect when I got past certain levels in the game. There will be many occasions when I finish a tough level at a time when I am away from home, such as finishing a level during my classroom hours on a day I have to go to my school. Of course, you can rest assured I will never change the number in this section BEFORE I finish the level I am working on. Sometimes, I get an easy level or I will pass a hard level relatively quickly due to a streak of good luck, so sometimes the number below will increase by two, three, or possibly more.
High scores
Edit
Levels I found difficult
Edit
See User:Tasty Sugar Track/Previous Hardest Levels for more information.
Favorite levels
Edit
Glitch Stats
Edit
Number of times I was forced to restart CCS application: 00009 since February 1, 2019
Opening Time
Edit
I will be unable to make any edits between 8:30 p.m. and 10:30 p.m. on Mondays and Thursdays (00:30-02:30 UTC on Tuesdays and Fridays).
And speaking of Mondays, I will be unable to make any edits between 9:00 a.m. and 12:30 p.m. on Mondays.
I love cascades because they score me so many points. I think they are a key to making a level fun for me. On the other hand, they can be annoying when they ruin plans.
I don't mind difficult levels. In fact, I specifically enjoy the challenge factor and the mystery of not knowing when I am finally going to pass the difficult level, whether it be my 1st attempt, my 4th, or my 120th, or whatever. I love the idea of not knowing what my golden number will be.
I do mind boring levels, though. For me, "hard" and "boring" are not synonyms, and "easy" and "entertaining" are also not synonyms. Not all easy levels are fun, and not all hard levels are boring. For example, I have fun when playing Level 325, a hard level, but I don't have nearly as much fun playing Level 126, a level with minuscule difficulty. Even a level rated "extremely hard" can still be fun, for instance: Level 1518.
There is no question about it that King uses the "difficulty" factor to get his players to pay gold and use money to buy more gold. King isn't nearly as aggressive when it comes to the "yawn" factor, that is, the use of "boring" levels to get us to pay. I did find Level 1081 and Level 1124 to be quite boring for me, but other than that, all other levels are fine by me. Some levels seem boring at first, such as Level 1208, but become fun once you get past the icing and pave the way for more cascades to happen. But let's remember that our beloved Level 252 didn't give us a whole lot of cascades until we would clear the icing and make space on the board.
The "Session Hijacking" glitch is like being scratched by a cat, because normally neither does happen, but it almost never feels good when either does happen. You also don't always know why. Yes, sometimes it happens seemingly out of the blue and you don't know why your cat just scratched you. It's also not always your fault. I guess it sometimes happens seemingly out of the blue sky.
The Unlimited Lives gift can be a blessing or a curse depending on when I receive it. A good time to receive that gift is when I have plenty of free time. A bad time to receive that gift is right at the start of some college class, because even if I have a lenient professor who allows me to use my phone in class, I feel uncomfortable having to spend five minutes of valuable classroom time being distracted by a King game. Unlimited Lives is an awesome gift, but there is a time and place for it, and sometimes it activates at a good time and sometimes it activates at a bad time. In early 2019, the game was giving me the gift weekly every Tuesday, and I am so glad that was temporary and it is over and done. I hope that when/if I do have an evening class on a Tuesday, this trend will not start back up again.
Outlier moments
Edit
Note: Before you make fun of my moments, it helps to know that although these events are normally unlikely, I have been playing this game since December 2016, so I have definitely been playing the game more than long enough to see some weird events happen. This makes these moments less remarkable than they seem at first glance. Even unlikely events are cumulatively likely in sufficiently large samples.
On May 14, 2018, I finished Level 55 without reaching the target score. This is a situational irony because on many replays of Level 55, my score will blow way past the three-star score.
On August 27, 2018, I woke up in the morning with no idea of what the Random Number Devil had in store for me. I think most if not all of us can agree on Very Easy for Level 344, and at least 80% of the time (possibly more), I do win that level. That day, for some reason, I just couldn't seem to win that level twice in a row without using hammers or switchers (0.8 * 0.8 = 0.64 = 64%), and as you can imagine, I got extremely frustrated. I did eventually manage to win twice in a row, but it was a lot more trouble than it should've been. I played it 22 times that day and won only 15 times. I was in a very bad mood for four hours straight that day.
On August 31, 2018, at around 10:45 a.m., I failed Level 3, and carelessly pressed the "Play On" button. I am the kind of player who likes to collect as much gold as I can, and I didn't even notice I failed until my conscience told me I had just hit the forbidden "Play On" button, and I felt egg on my face. It hurt for a few minutes, but I quickly got back on track.
At around 4:00 p.m. on February 24, 2019, I failed Level 2. Believe it or not, it was much easier to fail even easy levels due to the change to the Build-a-Bot system and the removal of Space Dash. It hurt for about 10-15 minutes, but I did get back on track.
On March 1, 2019, I played Level 325 to earn some sugar track prizes, and even though I did not pass the level, this was a happy moment for a special reason. I used 43 of my 50 moves bringing down no ingredients, but failed the level with only two ingredients remaining. Yes, I brought down ten ingredients in only seven moves.
On March 28, 2019, I failed Level 1476. Yes, another undesirable milestone goes straight into my treasure bag.
On April 26, 2019, at 23:10:30 UTC, I won Jackpot on the Daily Booster Wheel. In a funny coincidence, a comment was added to that very page just a few short minutes before that happened.
Edit Milestones
Edit
Achievement Score
Edit
Number of achievement points I had on my profile at 11:59 p.m. Eastern Time (03:59 UTC or 04:59 UTC depending on the time of year) on the following dates.
March 31, 2018: 260
March 31, 2019: 3,400
April 30, 2019: 3,400
May 31, 2019: 3,430
June 30, 2019: 3,580
July 27, 2019: 3,780
August 31, 2019: 3,780
September 10, 2019: 3,780
Community content is available under
CC-BY-SA
unless otherwise noted.