Episode
10
World (Flash)
2
World (HTML5)
2
Levels
126-140
Characters
Olivia
Champion title
Captain Wafer
New features

Candy colour orders
order
order
order
order
order
Special candy order
order
order
Combination order
order
order
booster
Levels where candies don't respawn
Blocker orders (unofficial)
order (unofficial)
Release date
 - 12 July 2012
 - 22 November 2012
Difficulty
Easy
Previous
Next
Wafer Wharf is the 10th episode of Candy Crush Saga and the fourth episode of World Two. This episode was released on 12 July 2012. The champion title for this episode is Captain Wafer.
Before episode:
Tiffi meets Olivia with a broken submarine (which she calls "Octoboat").
After episode:
Tiffi fixes the hole in the Olivia's submarine by placing a patch of bubblegum over it. Olivia then cheers, "Hurray for bubblegum!".
New things
Edit
Candy Order levels () are introduced in level 126. (Brief Description: Levels that require the player to collect candies/combinations.)
The following candy orders are introduced:
All colour candies apart from yellow (which used to be introduced until 6 coloured levels were phased out).
The following combinations:

Striped + Striped and Wrapped + Wrapped. Colour Bomb + Striped and Colour Bomb + Wrapped used to be required in level 132, but it was redesigned.

Lucky candy () is unlocked at level 131.
Level 129 is the first level where candies don't respawn.
Chocolate order is unofficially introduced in level 136, due to redesigning.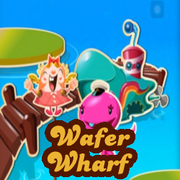 This episode contains levels 126-140.
Wafer Wharf is an easy episode. It has one medium level: 132, and one somewhat hard level: 137. However, there are many easy levels. Overall, this episode has the same difficulty as the previous episode, Peppermint Palace.
Sugar Drop levels

Level 126
Level 128
Level 131
 Difficulty code summary (details here)
None • Very Easy • Easy • Somewhat Easy • Medium • Somewhat Hard • Hard • Very Hard • Extremely Hard • Nearly Impossible • Variable
 Note that goals include target score.
Level
Type
Moves
/ Time
Target score
Goal
Walkthrough
Remarks
126
10,000
: 7   : 30
First level
127
5,000
: 40   : 40
128
25,000
: 85   : 5
129
10,000
: 13   : 13   : 13
First level where candies do not spawn
130
20,000
: 3
First level on web versions to have a combination order
131
10,000
: 5
Lucky Candy booster unlocked
132
30,000
: 50   : 50   : 50
The seventh  in a row
133
45,000
: 20   : 27
134
30,000
: 30,000 pts
135
10,000
: 5
136
30,000
: 54
137
20,000
: 1   : 1
138
25,000
: 18
139
15,000
: 15,000 pts
140
20,000
: 15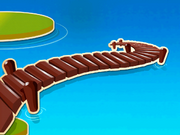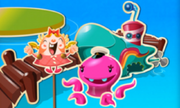 This episode is the first episode to have only one ingredient level. The second episode with one ingredient level is Piñata Park.
This episode has the most candy order levels. There are 10 of them in total, including 7 in a row.
This episode has the least amount of jelly levels.
The release date of this episode also introduces three different music themes, one for each level type. Before that, the only music that played in every level was the jelly/moves level music.
This is the first episode to take place in a watery terrain.
Formerly, the submarine on the map on mobile versions were big, but after the recent update, it is smaller.
The background on mobile devices does not show the bubblegum patch on the submarine.
On web, when Tiffi and Kimmy rewarding the player, the background picture is the same as one in this episode background.
This episode starts the trend of episode openers being candy order levels.
This is the first episode with the word "wafer" in its name.
Community content is available under
CC-BY-SA
unless otherwise noted.