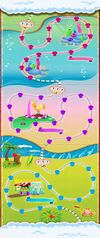 World is a segment of the overall map in Candy Crush Saga. There are 53 complete worlds in Reality on Flash version and 115 complete Reality worlds on HTML5 version. Before the removal of Dreamworld, there were eight complete worlds in Dreamworld on both versions.
The worlds carry no themes themselves unlike most games that use the term but are divided into episodes. On Flash version, the first 10 worlds were full-length; they contain six episodes. World 11 and beyond contain only three episodes (aka half-worlds).
Prior to changes resulting in HTML5 being made the new format for all devices (both web and mobile), the mobile version didn't have worlds. Following the new map format, the HTML5 version has worlds too. Every world has five episodes.
On Flash version, the worlds are separated by clouds. The cloud has a pink arrow on it that when clicked, the player moves up and gets to view the next or previous world. Formerly, on mobile, nothing indicated different worlds, the whole map was fully connected. Due to HTML5 being on all devices now, there are clouds separating each world but there's no pink arrow that needs to be clicked. There is also a milestone between worlds in the HTML5 version.
Worlds were first added at the release of Fudge Islands. This feature was included to break down the size of the map as it was one long continuous stream. Also, the pathway of the episodes in web has been changed, no matter why the pathway between mobile and web are different, and why the pathway of the first few episodes in mobile are short.
In Reality, World 53 has been completed on Flash, the last episode being Peppermint Portal.
On HTML5, Episodes 190 and above will be released for this version only.
In Dreamworld, World 8 has only three episodes. The third episode, Dozy Dawn, has brought this world and the entire realm to the end.
Note: These worlds are no longer available because Dreamworld was removed on 17 May 2017.
On Flash version, all Reality worlds from World 11 and beyond have 45 levels, worlds between World 2 and World 10 have 90 levels, and the first world has 80 levels. On HTML5 version, all worlds have 75 levels except the first one, which has 65 levels.
Community content is available under
CC-BY-SA
unless otherwise noted.