Roblox: DeepWoken - The Loop
Play Sound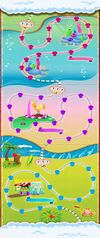 A world is a marked segment of the overall levels map of Candy Crush Saga to save load times. Each world consists of five episodes on the 3D map for HTML5 versions, and six or three episodes on the Flash version. A group of six episodes is called a whole world. There are clouds separating each world in which one can continue scrolling to access the next world. There is also a small bonus between worlds on the HTML5 version.
There are 147 complete Reality worlds on HTML5 version. Prior to the demise of Flash, there were 53 worlds in Reality playable on the Flash version containing 2825 levels.
There were eight worlds on Dreamworld; however the last one was made a half-world due to Dozy Dawn. Unfortunately, Dreamworld was removed altogether.
The worlds carry no themes themselves unlike most games that use the term; however, they are divided into episodes which do have a specific theme.
Worlds on different platforms
[
]
Worlds were introduced on the release of Fudge Islands and explicitly shown on Flash. Prior to that, the entire map was a continuous path on both Flash and Mobile.
On the Flash version, the worlds were separated by clouds. The cloud had a pink arrow on it that when clicked, the player gets to view the next or previous world. On the overhead HTML5 map (the first version of the map on mobile, which is 2D), the whole map was fully connected though it was still completely derived from the Flash map. In either case, we still navigated the wiki using worlds during this period.
Until the time HTML5 replaced Flash on Facebook, the HTML5/app version used the overhead levels map which didn't delineate the worlds, even though the pathway were mostly identical on Flash. Following the new 3D levels map with pop-ups and animated characters, the HTML5 map is divided into worlds too, though every world now has five episodes and episodes now follow a cycle of five rotating pathways. Between worlds, the path is longer than paths between episodes in the same world, and on mobile apps app, there is also a star button providing a sale (Milestone Goodies).
On the Flash version, the first 10 Reality worlds worlds and the first 7 Dreamworld worlds were full-length containing six episodes. World 8 on Dreamworld was the first half-world, being prematurely ended by Dozy Dawn, and all Reality worlds from World 11 and beyond contained only three episodes. Thus, there were 10 whole worlds and 43 half-worlds in Flash, in which there could be 31 whole worlds, with the final one being another half-world containing Peppermint Portal.
Five worlds were created, each six episodes long since the release of Fudge Islands. This feature was included to break down the size of the map as it was once long continuous stream. Also, the pathway of the episodes for the first 24 episodes on the web version had been changed. This was the reason why the pathways for the first 24 episodes were often completely different between web and mobile, and why the pathways of the first few episodes in mobile were short with many levels located close together on thhe map.
List of Flash worlds
[
]
These were all the Flash worlds arranged into whole-worlds and pairs of half-worlds to scale. Click on the image to enlarge. Click on the number to see the world page.
These were the classic six-episode worlds released on Flash.
They were all completed before the revealing of Dozy Dawn.
These were the Dreamworld counterparts of Reality worlds, all within the whole-worlds.
World 8 (Dw) was the first half-world in the history of the game due to Dozy Dawn.
These were the first half-worlds. World 11 was finished after the release of Dozy Dawn.
It would be whole-worlds 11 to 22. Pathways and color schemes start to repeat every three half-worlds.
























W 11,12
(WW 11)
W 13,14
(WW 12)
W 15,16
(WW 13)
W 17,18
(WW 14)*
W 19,20
(WW 15)
W 21,22
(WW 16)
W 23,24
(WW 17)
W 25,26
(WW 18)
W 27,28
(WW 19)
W 29,30
(WW 20)
W 31,32
(WW 21)
W 33,34
(WW 22)
These were the later half-worlds, all continuing in a mostly repeating color and path scheme.
They would be whole-worlds 23 to 31, with the 32nd being another half-world like World 8 (Dw).
List of HTML5 worlds
[
]
Note: April Fools 2020 have caused a renumbering of worlds. This list assumes if the rotating maps are not in effect. With the rotating maps, Episode 3 constitutes the first world, with the first two tutorial episodes considered as in World 0. Episode 489 and onwards only ever existed after the rotating maps went live, so the list is historical for Worlds before 98, and inaccurate for World 98 and after.
Flash Era
[
]
Levels 1-2825. For a few months, Flash was still playable after April 2020 while HTML5 was affected by April Fools 2020.
Flash was spared from the effects of April Fools 2020, so the these names were still present at that time.
---
All the episodes on the same column share the same rotational names.
World
Chocolate
Mountain
Caramel
Canyons
Soda
Sea
Rainbow
Reef
Sunny
Swamp
Lollipop
Meadow
Lemonade
Lake
Bubblegum
Hill
Gummy
Gardens
Fantastic
Forest

Whole-worlds

World 0,1

Lemonade Lake
Chocolate Mountains
Minty Meadow
Easter Bunny Hills
Bubblegum Bridge
World 2,3
Salty Canyon
Peppermint Palace
Wafer Wharf
Gingerbread Glade
Pastille Pyramid
Cupcake Circus
Caramel Cove
Sweet Surprise
Crunchy Castle
Chocolate Barn
World 4,5
Delicious Drifts
Holiday Hut
Candy Clouds
Jelly Jungle
Savory Shores
Munchy Monolith
Pearly White Plains
Fudge Islands
Pudding Pagoda
Licorice Tower
World 6,7
Polkapalooza
Soda Swamp
Rainbow Runway
Butterscotch Boulders
Sugary Shire
Waffle Workshop
Meringue Moor
Ice Cream Caves
Sour Salon
Sticky Savannah
World 8,9
Jelly Wagon
Biscuit Bungalow
Gummy Gardens
Wafer Windmill
Cereal Sea
Taffy Tropics
Glazed Grove
Fizzy Falls
Crunchy Courtyard
Choco Rio Grande
World 10,11
Toffee Tower
Boneyard Bonanza
Marshmallow Mountains
Marmalade Meadow
Chewy Citadel
Eggnog Emporium
Fudge Fjord
Caramel Clearing
Candy Calaboose
Nougat Noir
World 12,13-
Gummy Galaxy
Truffle Terrace
Coco Crossroads
Crumbly Coast
Polka Park
Delectable Depths

Half-worlds

World 13 (cont'd)
Minty Meadow
Cookie Crossing
Soda Swamp
Candy Clouds
World 14,15
Caramel Keep
Tasty Treasury
Luscious Lagoon
Mellow Marshmallow
Siberian Sorbet
Cloudberry Creek
Bubblegum Hut
Chocolate Chamber
Raspberry Races
Teapot Tower
World 16,17
Barking Boutique
Banana Beach
Snack Shack
Fungi Forest
Marmalade Moon
Wonky Wonderland
Drizzly Dale
Bonbon Bistro
Diamond District
Butter Rum Reef
World 18,19
Hoax Hollow
Honey Hut
Brulee Bay
Candied Cliffs
Candy Keep
Syrupy Circus
Festive Forest
Peppermint Party
Mount Chocolympus
Flavor Field
World 20,21
Divine Diner
Dessert Desert
Delicious Dynasty
Precious Pond
Lullaby Lake
Candy Canyon
Biscuit Bay
Wacky Waterhole
Scrumptious Studio
Vanilla Valley
World 22,23
Toffee Teasprings
Sundae Stables
Milky Marina
Marzipan Mine
Honey Highlands
Taffy Treetops
Sugar Shrubs
Sweet Skies
Piñata Park
Sprinkle Sea
World 24,25
Blueberry Brush
Wiggly Wheel
Delightful Docks
Fruity Fairground
Bonbon Beanstalk
Icing Islands
Apricot Alley
Peanut Pass
Licorice Luna
Funky Farm
World 26,27
Kooky Kingdom
Praline Pavilion
Hippy Hills
Spicy Shop
Custard Coast
Vanilla Villa
Bubblegum Bazaar
Corny Crossroads
Soda Surf
Cavity Cave
World 28,29
Tricky Tracks
Luscious Lane
Shaky Shire
Research Reef
Treacle Retreat
Radiant Resort
Dainty Dunes
Pastry Peaks
Chilly Chimneys
Candy Countdown
World 30,31
Gumball Gorge
Scrumptious Slopes
Fizzy Factory
Tasty Tops
Smiley Seas
Crumbly Crossing
Swirly Steppes
Sugary Stage
Frosty Fields
Marzipan Meadow
World 32,33
Glittery Grove
Cupcake Clinic
Nougat Nebula
Cobweb Canopy
Bouncy Bayou
Crispy Clearing
Haystack Hills
Popsicle Plateau
Delicate Dale
Blooming Backyard
World 34,35
Savory Springs
Watermelon Waves
Candy Concert
Frosting Fortress
Truffle Trench
Slushie Studio
Wafer Waterfall
Strawberry Steps
Honey Heights
Crunchy Comet
World 36,37
Meringue Mansion
Fabulous Fair
Cocoa Cove
Balloon Barn
Fudgy Fort
Popcorn Planet
Pearly Parlor
Peppermint Pond
Rainbow Rapids
Tacky Tent
World 38-
Glazing Glen
Peppermint Portal
HTML5 Era, pre-April Fools 2020
[
]
Levels 2826-7310.
These episodes were HTML5-exclusive, and existed in their original forms before April Fools 2020.
---
All the episodes on the same column share the same rotational names (with one exception).

World
Chocolate
Mountain
Caramel
Canyons
Soda
Sea
Rainbow
Reef
Sunny
Swamp
Lollipop
Meadow
Lemonade
Lake
Bubblegum
Hill
Gummy
Gardens
Fantastic
Forest

Normal episodes

World 38,39 (cont'd)
Peppermint Portal
Delectable Dominion
Tricky Tower
Party Park
Syrup Square
Gingerbread Gym
Lunar Landing
Banana Buffet
Pumpking Patch
World 40,41
Sour Swamp
Cranberry Cottage
Festive Fiesta
Bonbon Bash
Breakfast Bay
Barren Boonies
Waffle Well
Fondue Fort
Choco Chess
Popping Peninsula
World 42,43
Valentine Valley
Toasty Terrain
Bubbly Bath
Swirly Shack
Pumpkin Planetarium
Cookie Cinema
Frozen Fishland
Fruity Farmland
Radiant Road
Munchy Marsh
World 44,45
Bonbon Brambles
Liquorice Lounge
Tasty Tropics
Cookie Chase
Syrup Sea
Marzipan Maze
Sprinkle Spire
Icecream Isle
Blueberry Bluffs
Lemon Lighthouse
World 46,47
Yummy Yard
Cocoa Clearing
Glaze Garden
Frozen Fair
Booty Bay
Lollipop Land
Luscious Landing
Waffle Ward
Wafer Wonderland
Harvest Hills
World 48,49
Marshmallow Mire
Coral Caverns
Gumball Grounds
Delightful Desert
Berry Bistro
Cotton County
Sugary Slide
Lolli Lab
Brume Beach
Pastry Planets
World 50,51
Chilly Creamery
Cacao Cliff
Pudding Patch
Candy Circus
Pearly Pond
Crumbly Cave
Candied Crust
Strawberry Shire
Coral City
Munchy Mansion
World 52,53
Bakers Bluff
Edible Empire
Licorice Lair
Pastille Pass
Flavour Falls
Honey Hives
Gummy Gazebo
Orange Overpass
Sticky Shore
Woolly Workshop
World 54,55
Donut Disco
Peppermint Parlour
Minty Marina
Floral Foyer
Creamy Coast
Frosting Forest
Curly Court
Candy Clearing
Bounty Bush
Merry Market
World 56,57
Glittery Gala
Gelato Glacier
Pastry Palace
Pretzel Plains
Sugar Shacks
Radiant Reef
Candied Cluster
Lollipop Lane
Berry Bazaar
Cinnamon City
World 58,59
Fudgy Fountain
Puffy Pillars
Apple Alley
Purple Park
Lovely Lagoon
Chilly Citadel
Puffy Peaks
Fruity Fields
Candy Coast
Dreamy Dale
World 60,61
Tangy Tracks
Soda Streams
Lucky Lawn
Fishy Floods
Pavilion Pond
Doughy Dunes
Treasure Tropics
Meringue Metropolis
Flossy Forest
Flan Falls
World 62,63
Crystal Canteen
Bun Boulevard
Cocoa Cosmos
Sweet Swamp
Delicious Depths
Radical Ramps
Pudding Panorama
Honey Henge
Croissant Crossing
Paper Plains
World 64,65
Apple Avenue
Slushie Shops
Cosmic Canyon
Macaron Market
Teapot Terrace
Party Pyramids
Cup Carnival
Burger Buffet
Marble Meadow
Popcorn Province
World 66,67
Rocky Road
Sparkling Streams
Orangeade Oasis
Biscuit Brink
Luscious Lab
Wrecky Workshops
Fancy Festival
Celestial Cinema
Scrumptious Sale
Mousse Manor
World 68,69
Harmony Hills
Spicy Suburbs
Lava Lake
Pretty Porch
Glittery Glacier
Toasty Tents
Soda Shack
Wondrous Well
Tasty Temple
Caramel Cliffs
World 70,71
Sparkly Station
Bubble Bar
Merry Mailroom
Cookie Canopy
Glamorous Gig*
Bubbling Bog*
Sprinkle Stronghold
Marine Monument
Treasure Trove
Popsicle Pole
World 72,73
Cocoa Courtyard
Perfect Picnic
Pineapple Patch
Gourmet Gym
Munchy Meteor
Caramel Canyons*
Fantastic Fair
Sugary Stands
Bubbly Boulevard
Coconut Cruise
World 74,75
Glorious Glade*
Sugary Shire
Gumdrop Grove
Hazelnut Harbour
Sugary Spa
Soft Serve Slopes
Glorious Garden
Shiny Streets
Fruity Forest
Plushie Party
World 76,77
Sugar Cookie Shrine
Pumpkin Parade
Rainbow Reef
Licorice Lane
Bubbly Bowl
Candy Cane Canopy*
Orange Orchard
Shake Street
Piggy Park
Doughnut Deli
World 78,79
Sticky Suburb
Generous Grove
Forest Feast
Creamy Caverns*
Roulade Reception
Lovely Lot
Snazzy Supermarket
Fluffy Fort
Maple Mounds
Bun Bakery
World 80,81
Sugary Showroom
Musical Mansion
Wintry Workshop
Soda Soiree
Fancy Fjords
Charming Chateau
Almond Airport
Buttery Bistro
Glazed Grasslands
Polka Playground
World 82,83
Honey Haven
Citrus County
Prosperous Plains
Breezy Bedroom
Board Game Basement
Melody Meadow
Candy Caravan
Chewy Classroom
Gooey Galleon
Delicious Dwelling
World 84-
Sweet Stadium
Orderly Office
Harmonious Hives

Denormal episodes

World 84,85 (cont'd)
Marshmallow Mansion
Candied Conservatory
Flowering Fields
Loopy Lagoon
Tropical Terrain
Wobbly Well
Praline Pagoda
World 86,87
Tasty Tourney
Biscuit Borough
Sugary Steeple
Popsicle Plot
Pearly Peaks
Cookie Clearing
Terrific Tower
Snowy Shop
Legendary Lodge
Apple Abode
World 88,89
Glamorous Garden
Confectionery Chateau
Moonlight Manor
Playful Planet
Sugary Skies
Wavy Waterfront
Gum Garden
Sour Shoals
Lollipop Land
Candy Crossing
World 90,91
Refreshing Retreat
Breezy Beanstalk
Floaty Fortress
Playful Palace
Wonky Waters
Marshmallow Mound
Tasty Tundra
Happy Heights
Bubble Base
Cocoa Condo
World 92,93
Munchy Marathon
Swirly Spire
Sunny Shops
Banana Bay
Coral Cantina
Fungi Fields
Galactic Gateau
Mushroom Meadow
Puddle Pasture
Cookie Café
World 94,95
Creator's Crib
(Exempt)
Coconut Cape
Witchy Wilderness
Kooky Kitchen
Custard Cove
Vibrant Valley
Sweet Supplies
Cream Carnival
Snowy Suburbs
Colorful Celebration
World 96,97
Chocolate Colonnades
Golden Goals
Delicious Deli
Cocoa Crags
Pearly Pagodas
Lovely Lake
Drowsy Den
Fluffy Fields
Crunchy Cay
Sprinkle Steppes
April Fools 2020 Era
[
]
Levels 7311-9995. With a sole exception, these episodes no longer have their own names and background.

Flash was removed from King.com upon the soft-release of E523. 8K, 9K, and half of the countdown are here.
---
All the episodes on the same column share the same rotational name and map. Click on the link with the particular episode number under the corresponding column to obtain this episode's page.
World
Chocolate
Mountain
Caramel
Canyons
Soda
Sea
Rainbow
Reef
Sunny
Swamp
Lollipop
Meadow
Lemonade
Lake
Bubblegum
Hill
Gummy
Gardens
Fantastic
Forest
World 98*,99
Choco City*
Episode 489
Episode 490
Episode 491
Episode 492
Episode 493
Episode 494
Episode 495
Episode 496
Episode 497
World 100,101
Episode 498
Episode 499
Episode 500
Episode 501
Episode 502
Episode 503
Episode 504
Episode 505
Episode 506
Episode 507
World 102,103
Episode 508
Episode 509
Episode 510
Episode 511
Episode 512
Episode 513
Episode 514
Episode 515
Episode 516
Episode 517*
World 104,105
Episode 518
Episode 519
Episode 520
Episode 521
Episode 522
Episode 523*
Episode 524
Episode 525
Episode 526
Episode 527
World 106,107
Episode 528
Episode 529
Episode 530
Episode 531
Episode 532
Episode 533
Episode 534
Episode 535
Episode 536
Episode 537
World 108,109
Episode 538
Episode 539
Episode 540
Episode 541
Episode 542
Episode 543
Episode 544
Episode 545
Episode 546
Episode 547
World 110,111
Episode 548
Episode 549
Episode 550
Episode 551
Episode 552
Episode 553
Episode 554
Episode 555
Episode 556
Episode 557
World 112,113
Episode 558
Episode 559
Episode 560
Episode 561
Episode 562
Episode 563
Episode 564
Episode 565
Episode 566
Episode 567
World 114,115
Episode 568
Episode 569
Episode 570
Episode 571
Episode 572
Episode 573
Episode 574
Episode 575
Episode 576
Episode 577
World 116,117
Episode 578
Episode 579
Episode 580
Episode 581
Episode 582
Episode 583
Episode 584
Episode 585
Episode 586
Episode 587
World 118,119
Episode 588
Episode 589
Episode 590
Episode 591
Episode 592
Episode 593
Episode 594
Episode 595
Episode 596
Episode 597
World 120,121
Episode 598
Episode 599
Episode 600
Episode 601
Episode 602
Episode 603
Episode 604
Episode 605
Episode 606
Episode 607
World 122,123
Episode 608
Episode 609
Episode 610
Episode 611
Episode 612
Episode 613
Episode 614
Episode 615
Episode 616
Episode 617
World 124,125
Episode 618
Episode 619
Episode 620
Episode 621
Episode 622
Episode 623
Episode 624
Episode 625
Episode 626
Episode 627
World 126,127
Episode 628
Episode 629
Episode 630
Episode 631
Episode 632
Episode 633
Episode 634
Episode 635
Episode 636
Episode 637
World 128,129
Episode 638
Episode 639
Episode 640
Episode 641
Episode 642
Episode 643
Episode 644
Episode 645
Episode 646
Episode 647
World 130,131
Episode 648
Episode 649
Episode 650
Episode 651
Episode 652
Episode 653
Episode 654
Episode 655
Episode 656
Episode 657
World 132,133
Episode 658
Episode 659
Episode 660
Episode 661
Episode 662
Episode 663
Episode 664
Episode 665
Episode 666
Episode 667
Milestone episode
Milestone Meadow
Levels 9996 and higher. Unreleased, but revealed episodes are also listed indicated by a (💧) symbol.

Contains the second half of the countdown levels and 10K.
---
List of Dreamworld worlds
[
]
Note: The map was a continuous path throught its existence on HTML5. These worlds are no longer available because Dreamworld was removed on 17 May 2017.
Gallery
[
]
Flash Worlds
[
]
See List of Flash Worlds
Overhead HTML5 map
[
]
In legacy mobile versions, the map was a continuous path. The first 24 episodes retain their original pathways before worlds were implemented, and most episodes onward closely or exactly followed the Flash pathways.
The last episode that can be seen on the 2D map was Rainbow Rapids, the 186th episode ending World 52. That occurred on v1.108, in which the transition to the 3D map was already in effect.
3D HTML5 map
[
]
In the revamped 3D map now present on all versions, episodes have once again been divided into worlds. Each world is now five episodes long, and between worlds the path is longer, with clouds dividing between the worlds.
Except for the first two episodes, the pathways and colors now repeat systematically in a five-episode pattern
April Fools 2020 effects
[
]
The map has been completely "neutered" with only two exceptions, due to the effects of the historic April Fools 2020. The most immediate effect is that all episode names repeat in a 10-episode rotation, so each rotation constitutes two worlds. More subtle is that the path between Candy Factory to Episode 3 has been lengthened significantly, such that Episode 3 (now the first Lollipop Meadow) is an episode opener, and there is a long path between Episode 7 and Episode 8. Milestone Goodies sales also have been relocated two episodes forward.
All openers now episode numbers ending with a "3" or "8", meaning they are either a Lollipop Meadow or a Chocolate Mountain excluding exceptions. All finales have episode numbers anding with a "7" or "2"; they are either a Fantastic Forest or a Sunny Swamp excluding exceptions. Episodes ending with a "1", "2", "6", or "7", would have their episode numbers shifted down by 1, so Episode 6, Episode 7 now both belong in World 1 (containing E3-7 rather than E1-5) rather than World 2 (once containing E6-10), and Episode 11, Episode 12 now both belong in World 2 (containing E8-12 rather than E6-10) rather than World 3 (once containing E11-15).
Creator's Crib and Milestone Meadow, currently the two only remaining non-tutorial episodes to have a name and map texture, are also episode openers.
Trivia
[
]
Worlds clearly highlighted the shifting eras of the development of new episodes and features to the game.

During the Flash Era with whole worlds:

Worlds One and Two on Flash, consisting of the first twelve episodes created during the first year of this game's existance, once consituted a continuous path where pathways were short, latitudes belonged to two or even three episodes, and levels were closely spaced.
Worlds Three and Four, consisting of the latter half of the levels where the map on Flash was continuous, tend to be longer, with each "latitude" being occupied by one episode.
Mobile pathways start corresponding closely to Flash pathways consistently only from World Five and after. A few correspond less closely, and Boneyard Bonanza was a notable exception.
The first pathway reused was in the 39th episode, found in World Seven. Biscuit Bungalow had the exact same pathway as Pudding Pagoda from World Five, but with a different color. On mobile, Biscuit Bungalow's pathway was a compressed version of Pudding Pagoda's pathway. A near miss occurred earlier between Sugary Shire from World Six and Soda Swamp from World Five.
Worlds Seven, Eight, Nine, and Ten all had an episode which reused the entire pathway or segments of the pathway from an earlier episode.
Pathways continued to lengthen on average within the whole worlds, such that every world after had a longer footprint and covered more latitude. World Ten thus had the longest footprint of all Flash worlds.

During the Flash Era with half worlds, starting with the release of Dozy Dawn on 6 May 2015:

Reused pathways and colors are especially rampent among the half-worlds, especially later half-worlds. Nearly every episode in a Flash half-world was reused, and mobile pathways always closely followed their Flash counterparts.
Out of the 129 half-world episodes, there are only ten unique shapes of pathways, discounting reflections and stretching; two (none on mobile) are introduced from World Nine, one is introduced from World Ten, two (all on mobile) are introduced from World Eleven, five are introduced on the three-part story worlds. Worlds with static cutscenes all have reused pathways on Flash, though Barking Boutique's pathway was new on mobile.
Only five unique pathways were introduced after the release of Dozy Dawn, the last Dreamworld episode and the first one released after Delicious Drifts. However, Minty Meadow scene's pathway was reused from the first Minty Meadow in Flash, but that scene's pathway, was new on mobile. Similarly, Barking Boutique's pathway was derived from Marmalade Meadow's on Flash, but was new on mobile.
Crumbly Coast, Polka Park, Delicious Drifts (on mobile; reuses Boneyard Bonanza's path on Flash), Minty Meadow scene, Cookie Crossing, Soda Swamp scene, Candy Clouds scene, Tasty Treasury, and Barking Boutique (on mobile; reuses Marmalade Meadow's path on Flash) from the first three (five on mobile) half-worlds feature their pathways that are new at that time. Gummy Galaxy's pathway, the only half-world path introduced in World Ten, is the only pathway that is not new on both Flash and mobile at the time of its first half-world appearance.
Out of the ten pathways found on the half-worlds, only seven pathways, originating from Boneyard Bonanza(Flash)/Delicious Drifts, Marmalade Meadow(Flash)/Barking Boutique, Gummy Galaxy, Crumbly Coast, Soda Swamp, Candy Clouds, and Tasty Treasury made more than one appearance among half-worlds. Only three (five on mobile) originated in whole worlds.
Even then, the pathway of Boneyard Bonanza(Flash)/Delicious Drifts and made only two half-world appearances all within the first five half-worlds.
From World 16 and after only the pathways from Gummy Galaxy, Tasty Treasury, Marmalade Meadow(Flash)/Barking Boutique, Soda Swamp scene, and Candy Clouds were used. Thus, for 114 episodes among the 38 remaining worlds you can only see five unique pathways.
From World 18 and after, the pathways start repeating every three worlds, or nine episodes. In order, they are from:

Soda Swamp scene, Candy Clouds scene, Gummy Galaxy (Type I, from World 18)
Tasty Treasury, Gummy Galaxy, Tasty Treasury, (Type II, from World 19)
Gummy Galaxy, Tasty Treasury, Marmalade Meadow/Barking Boutique, (Type III, from World 20)

From the 100th episode from World 24 (in the 17th whole world), no new characters were introduced; all Flash episodes from there on reuses characters.
From the twentieth whole world (World 29) onwards, the background color of the map start repeating every three whole-worlds, or six worlds, or nine episodes.
Caramel Keep, from the second three-part scene world, is the final episode to have a yellow pathway on Flash and overhead HTML5. Radiant Resort from World 38 (whole world 24) is the final episode to have a green pathway on Flash and overhead HTML5. From the 26th whole world (World 41) onwards, the path colors start repeating every three whole-worlds in this order:

Pink/Red, Purple, Pink (Type III, from World 41)
Purple, Pink/Red, Blue (Type I, from World 42)
Blue, Purple, Blue (Type II, from World 43)

The Flash version stopped receiving new episodes after World 53, starting the HTML5 eras on 4 October 2017.

Early HTML5 era: At the same time the 3D HTML5 map is in the process of rolling out, It has fully rolled out after Tacky Tent, the first World 53 episode, was released on HTML5. Thus, all HTML5-exclusive episodes have only a 3D map appearance.
Besides the first two levels, all episodes have pathways which repeat in a five-episode cycle.
There are only six banner and pathway colors, namely yellow, pink, blue, green, purple, and red. Red banners are the rare and only show up sporadically while the other five tend to follow a five-episode cycle.
All HTML5 episode openers from Episode 190 and after have yellow banners. The color patterns among these episodes are initially more irregular, but eventually, since the seventieth HTML5 world, all worlds from here on assume the same five-episode cycle.
Stories of episodes up to World 70 in HTML5 are all original. In particular, Bonbon Brambles, the 218th episode, was the next episode released to have any dialogue, and more remarkably, the next episode after Salty Canyon to feature an animated story (at that time, the only one). Three further episode characters and several event-exclusive characters have been introduced.
Middle HTML5 era: From World 70 in HTML5, a few more late 2013-early 2014 episode stories were reused, all in relative order. The first instance, soft-released on 21 August 2019, was Glamorous Gig, the 352th episode. It had the exact story and textures as Polkapalooza. Most of the episodes in this period still featured original stories, but using reused characters.
Late HTML5 era: From World 85 in HTML5 and for 69 episode across 14 worlds, no new original episode stories were made. All of them are derived from a much earlier episode and holiday episodes were released well outside their respective holidays. Episodes in these worlds all use the same textures as the one 382 episodes below, save one exception that was only applied later after this episode's release. Occurring on 22 January 2020, this was an early sign that King will phase out episode names, stories and backgrounds.

Since April Fools 2020, a small amount of players noticed that the map has been "neutered" into a rotating set of ten names and themes. This marked the transition to the April Fools 2020 era. The Flash version was still playable on King.com until Monday 14 September 2020, and was spared from April Fools 2020 throughout its existence until September 2020.
The impact of April Fools 2020 and the lack of map textures at all for Episodes 489 and onwards marked a new era where navigation can no longer be relied on episodes, and worlds required reorganization.

The implementation of the 3D map and the impact of April Fools 2020 represented historical turning points on the development of both the game and the wiki.
World 53 is the first world where it only existed on the 3D map in HTML5. There have never existed a 2D map texture for World 53 episodes on HTML5.
Creator's Crib was not an episode opener before the implementation of rotating maps, which can be seen in both forms (with Doxen Cooper on v1.175 and with Seb on v1.176 and after) on the last app versions where map textures existed. However, when April Fools 2020 neutered the map, Creator's Crib (which also was affected before the change went live) became an opener and received a different pathway.